Operators in the Middle East and North Africa should learn from OTT players to improve their TV services
"Operators can learn how to improve their multi-screen services from OTT players, and consider deploying their own OTT services, if conditions permit."
The behaviour of video consumers worldwide is changing, driven by delivery of content over the Internet and consumers' expectations that they should be able to access any content, anywhere. This trend has been facilitated in the Middle East and North Africa by the launch of operators' IPTV and multi-screen services, as well as OTT services from third parties.
We do not anticipate significant cord-cutting in the Middle East and North Africa over the next 5 years, but operators' share of wallet for paid-for video services is at risk from OTT players. Operators' multi-screen strategies should therefore adopt the successful features of OTT video players' services to maximise returns from their own services. They could also develop OTT services alongside their current multi-screen ones under certain conditions. We discuss how operators can improve customers' experiences of multi-screen services in this article, and the factors that operators should consider before extending their multi-screen services to include OTT.
The growing popularity of OTT players poses a risk to pay-TV providers' margins
The immediate impact of OTT video on traditional pay-TV services in the Middle East and North Africa has been limited, primarily due to operators' willingness to form partnerships with OTT players and the release of their own multi-screen services. Proliferation of piracy in the region has also been a key factor constraining the adoption of OTT video.
However, changing consumer expectations of flexibility, availability of content, and the quality of the overall user experience has attracted the interest of various players. They hope to monetise (younger) consumers who are unsure of the value of pay TV and want to try the service without signing a long contract.
We forecast that traditional pay-TV and OTT-to-the-TV1 services will largely co-exist over the next 5 years. The latter will thrive in markets with high disposable income and high levels of broadband penetration such as Qatar and the UAE. OTT subscribers will reach nearly 7 million by 2021 and generate USD861 million in retail revenue. However, the OTT-to-the-TV segment will only contribute 20% of total retail revenue from video services in 2021 (Figure 1).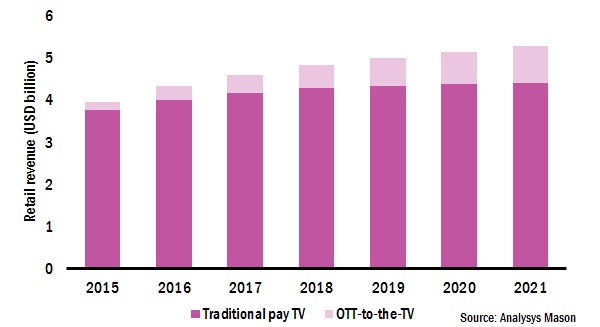 Operators can learn how to improve their multi-screen offerings from OTT players
Multi-screen and OTT video services often deliver similar content in a similar manner. However, off-the-shelf solutions deployed by operators can appear cumbersome compared to the sleek user interfaces of major players, such as Netflix. Operators should therefore consider adopting the successful features of OTT video players' user experience and interface, but should ensure that linear content is positioned prominently, as this is their key differentiator.
Operators can adapt some features of OTT offerings to enhance their customers' experience of their own multi-screen services.
User interface. Operators' multi-screen strategies should adopt the best features of OTT video players' user experience in terms of quality and consistency of service across multiple screens, as well as in offering an attractive and intuitive user interface. However, operators should still position linear channels at the focal point of their services to give the impression of a premium, plentiful user experience.
Flexible delivery at different bitrates (adaptive encoding). OTT players rely on a number of content delivery networks (CDNs) to provide near-instant access and flexible bitrates. This ensures a good QoE across different networking conditions and device capabilities. Close integration of video service assurance and video optimisation solutions could enable operators to deliver a superior QoE more effectively.
Flexible content access. Consumers are increasingly familiar with VoD content through OTT services and they may begin to favour VoD over the linear video content offered by pay-TV operators. Operators can reduce this risk by including some VoD content in their services, but linear content still constitutes the majority of viewing and must be an emphasised, integral part of the service.
Content recommendation and discovery. Electronic programme guide (EPG) design has developed towards a search-and-discover-oriented user experience in recent years. This has become a basic feature of OTT video offerings, and consumers expect similar functionality from multi-screen services. Operators should leverage their rich analytics capabilities to build more-intelligent content recommendation engines.
Operators could develop OTT services alongside their multi-screen services, provided that certain conditions are met
OTT players have formed partnerships with telecoms operators to increase their reach in the Middle East and to facilitate payment. However, partnerships do not necessarily benefit operators as much as having their own, strong, multi-screen service does. Operators require the following conditions to enter the OTT market successfully.
The new OTT service must have exclusive content and the rights to distribute that content on-demand. Otherwise, operators will find that their services have lower appeal than OTT services with 'original' dramatic content. Few operators in the region have invested directly in original content so far, but we expect to see more engagement in 2017 through co-productions and co-branded partnership.
Infrastructure must be ubiquitous and affordable. Good NGA coverage helps to deliver a reliably-high QoE for OTT video services in the Gulf, and increasingly in the rest of the Middle East and North Africa region. Operators in countries that are less well-served by fibre may need to offer offline downloads of selected content to provide a credible service.
The market must have room for an appropriate pricing tier. Pay-TV pricing is relatively high in the Middle East and North Africa due to the low level of competition. This suggests that there is an available price tier (possibly less than USD10 per month) in which premium OTT services could be desirable.
The service must have a clear target demographic that is separate from that of the core video service. Illegal access to non-local DTH services or through 'hacked' set-top boxes is very common in the region. This makes it difficult to identify a clear target demographic for OTT services. Operators launching OTT services in the region therefore risk cannibalising their existing traditional pay-TV customer bases, while potential customers who currently use free, illegal services will be slow to change their behaviour.
Operators could potentially increase their share of the revenue from OTT partnerships and bundling. For example, they could provide OTT providers with additional capabilities, such as CDNs to help with traffic distribution or platforms to support the delivery of personalised content and advertising based on user preferences.
---
1 An 'OTT-to-the-TV' service is a paid-for video service delivered to a TV set over the public Internet, through a connected TV or peripheral device.