Building the case for AI: the revolution is underway as early-adopter operators deploy AI solutions
"AI can be applied to any process, but CSPs are unclear which use case to select first; CSPs can identify where to concentrate their resources by understanding AI use case categories and their related benefits."

There is a great deal of hype about AI in the telecoms market, but it is not yet clear which of the technology's use cases will provide the most value to communications service providers (CSPs). CSPs must assess the level of maturity and effectiveness of these solutions before making decisions about how to invest in, and apply, AI within their infrastructure and operations.
This report:
provides insights into the different types of AI applications that can help CSPs to transform and improve their processes, reduce costs, and make their networks more efficient
examines the level of maturity of each use case
provides detailed examples of AI solutions that have reached a more-advanced stage of deployment in the market
provides recommendations for CSPs that take into account their appetite for risk and the potential benefits of investing in early-stage AI technology.
---
When applied to key CSP use cases, AI produces an inflection point that can lead to more-efficient and more-precise processes that can take advantage of more data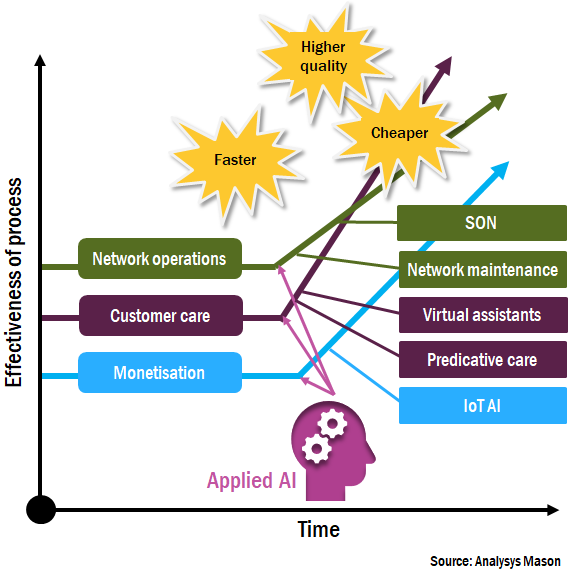 ---
Sample pages
---
Click on the sample pages or download the PDF (1MB).
USD 4999
Contact us
Denotes mandatory fields
Log in
Log in to check if this content is included in your content subscription.