The evolution to cloud-native NFV: early adoption brings benefits with a flexible approach
CLICK THE LINK ON THE RIGHT TO DOWNLOAD THE REPORT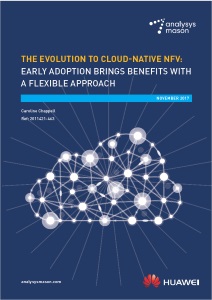 Software is the key enabler of the digital era. Webscale companies such as Google, Alibaba, Facebook and Tencent are using cloud-native computing as the fastest and most efficient way of developing and deploying software in the cloud. Other companies also recognise that they must apply cloud-native computing in their businesses or risk being left behind in the digital race. As communications service providers (CSPs) 'softwareise' their networks through network function virtualisation (NFV), they too should adopt cloud-native computing if they wish to achieve the full benefits of this initiative.
In the IT domain, the Cloud Native Computing Foundation (CNCF) has created a definition of cloud-native computing based on a combination of a microservices design pattern, containerisation and orchestration. The CNCF definition is helpful, but it is important to note that the term 'cloud native' covers a spectrum of implementation approaches adapted to varying business requirements across different industry sectors. There is no 'one size fits all' application of cloud-native computing that is right for every telecoms use case, but there are common principles which CSPs can adopt to achieve similar benefits to those enjoyed by the webscale companies.
More about this report
This paper describes a telecoms-appropriate approach to cloud-native software design, deployment and operation which CSPs and their vendors are developing. It explains how the cloud-native principles of statelessness and horizontal service decomposition can make virtual network functions (VNFs) more resilient and faster to change and upgrade. It suggests that CSPs should explore containerisation in use cases where it makes sense but use other, more mature and secure deployment options for critical use cases. The paper also explains key aspects of VNF lifecycle management automation, such as continuous integration and A/B testing, which CSPs can start to adopt today in preparation for the 5G cloud-native network of the future. The paper recommends that CSPs procure VNFs that have been designed with cloud-native computing in mind, understand the deployment benefits and risks of using containers and virtual machines (VMs) and develop and/or procure the skillsets and tools needed to operate and manage cloud-native VNFs in a highly automated way.
Finally, the paper points out that the extreme level of automation needed to operate cloud-native network functions and network services requires a different organisation and expertise than CSPs have in place today. The way CSPs migrate their organisations will vary depending on their individual circumstances and preferences but best practice approaches are emerging, for example starting small with a 'tiger team' that can build an initial DevOps blueprint or seeding the existing organisation with NFV capable staff organised into a virtual team. CSPs need to be prepared to work with vendor partners who are the 'developers' in the telecoms DevOps domain, and to leverage vendor expertise to accelerate the rate at which they adopt cloud-native computing capabilities. The paper cites examples of CSPs working on joint innovation and cloud-native computing proofs of concepts (PoCs) and commercial deployments with a vendor partner, Huawei.
CSPs which adopt cloud-native computing in a network context early will gain significant competitive advantages, for example through their ability to deliver services at speed, reduce network capex and opex, and address exciting new revenue opportunities in the enterprise sector.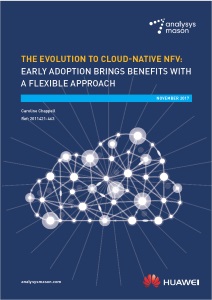 Download free report
This white paper offers a unique insight into cloud-native software design, deployment and operation.
Download your free copy