Digitalising 5G: elastic, programmable and secure
"Meeting the network requirements of the 5G era will require a revolution in the underlying technology of the network and the accompanying operations functions."
Free white paper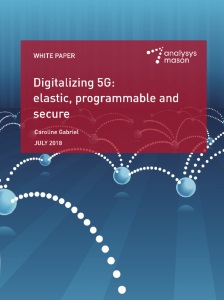 Evolving from today's communications service provider (CSP) to tomorrow's digital service provider (DSP) is not an option, it is a necessity.
A CSP focuses mainly on the connectivity to enable the services of others. But to reap the full commercial benefits of new networks, in the era of 5G and dense fiber, many will become DSPs, providers of a wide range of digital and online services from content to payments, delivered directly to the device.
Service providers will have crucial decisions to make about their core business models. While some will choose to focus mainly on providing connectivity to support digital partners, many will aim to move up the value chain and offer a richer set of digital services.
Whatever the business decision, it will be essential to undergo digital transformation. This means supporting online, mobile services and customer interactions, enabled by a new OSS/BSS platform which is virtualized and based on microservices and the cloud. This, in turn, requires the CSP to invest in an entirely new kind of network - one that will be elastic, programmable and highly secure - in order to adapt to a wide range of service models.
More about this report
Becoming a DSP entails resolving many apparent conflicts. DSPs need to achieve high levels of value and differentiation, at the same time as very low-cost operations, in order to achieve the agility to compete effectively. The network, similarly, has to reconcile demands that appear directly opposed to one another. It must be very open, but also extremely secure. It must be fully virtualized, but support tight integration of physical and virtual. It must enable extreme automation, but also be highly responsive to changing demands.
The service characteristics the network of the 5G era must support also appear divergent, and even incompatible: high bandwidth alongside ultra-low-cost, low-volume connectivity, as well as ultra-low-latency services; billions of open interface points to customers, things, and trading partners, but with exceptional security. To meet all these requirements will require a revolution in the underlying technology of the network and the accompanying operations functions.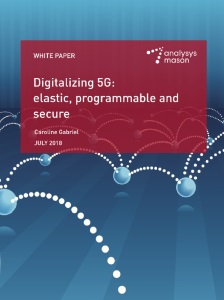 Download
This white paper assesses what CSPs need to do to their networks in preparation for 5G.
Download your free copy