Software-defined networking (SDN) in the WAN: solution options and vendor opportunities
"CSPs are focusing on WAN SDN in a bid to deliver new revenue and reduce opex, which is unleashing a 'land grab' among vendors that want to take a share of this emerging and lucrative market."

This report quantifies and analyses four approaches to wide-area network software-defined networking (WAN SDN). It discusses the challenges faced by communications service providers (CSPs) and their vendor partners in deploying SDN to create a programmable WAN and how open-source software is affecting these challenges. The report also classifies and analyses WAN SDN vendors' solutions and approaches, highlights the leading vendors, and provides recommendations for CSPs and vendors.
This report provides answers to the following questions.
What are the business and operational benefits of introducing SDN into the WAN?
How will SDN be used to improve control in the WAN?
Which are the leading vendors and what are their strategies?
What is the forecast revenue for the WAN SDN market to 2020?
What is the role of open-source software, specifically OpenDaylight and ONOS, in WAN SDN?
What is the probable evolution of SDN, influenced by NFV and 5G, and will it integrate with data centre SDN?
---
Vendors face intense competition for the emerging high-value and confusing WAN SDN market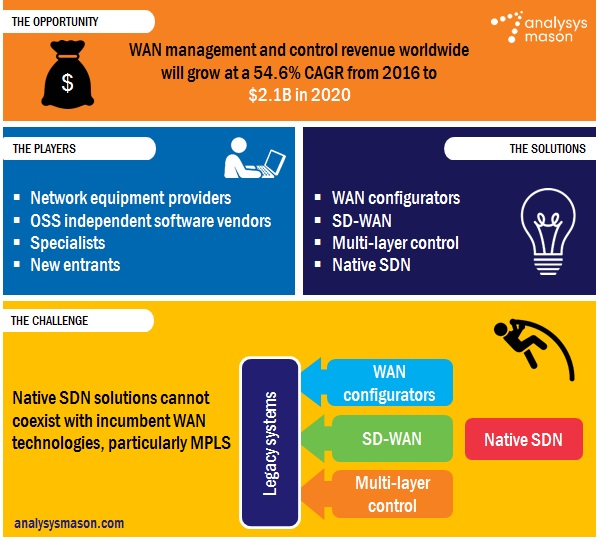 ---
Sample pages
Click on the sample pages or download the PDF (561KB).
USD 4999
Contact us
Denotes mandatory fields
Log in
Log in to check if this content is included in your content subscription.