TV and video services: how operators and pay-TV providers can avoid fragmentation, embrace change and partner more
In order to succeed, TV and video service providers must adjust their engagement models, adapt their content propositions and partner with a wider range of companies than they have previously.

The TV and video landscape is changing. The increasing variety of business models that compete with traditional pay TV succeed because they give consumers greater choice and convenience, as well as exclusive content that draws consumers to their services. Telecoms operators are well-placed to adapt their approach to TV to better cater to these same needs, but operators will need to change their approach to the retail and distribution of TV and video content, the way they differentiate their services, and the partnerships that they form in order to achieve these ends.
This report answers the following questions.
How is the TV and video landscape evolving and how should operators and pay-TV providers evolve with it?
How should operators and pay-TV providers adapt their TV and video propositions to the increase in the number of ways that consumers watch and buy content?
How should operators and pay-TV providers tackle the incursion of different players into models that compete with the traditional pay-TV business?
What are the different modes of collaboration that operators can embrace?
---
Competitive challenges to traditional pay-TV businesses and potential solutions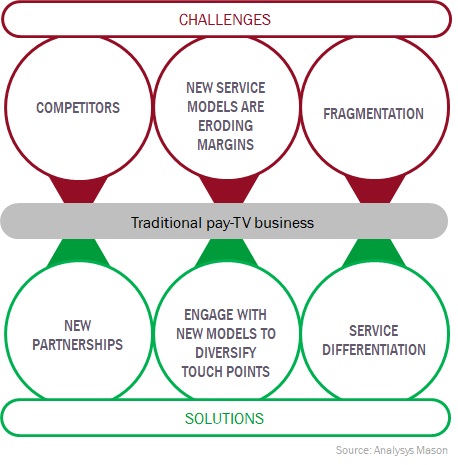 ---
Sample pages
Click on the sample pages or download the PDF (776KB).
USD 4999
Contact us
Denotes mandatory fields
Log in
Log in to check if this content is included in your content subscription.