The financial impact of digital transformation: evidence and analysis

Digital transformation (DTx) is considered to be critical to telecoms operators' long-term strategies, but it is difficult for operators to articulate what tangible financial effects DTx is having. Analysys Mason's research suggests an emerging correlation between DTx ambition and productivity measures and cash generation.
This report ranks operators by achievement and ambition in DTx: in network virtualisation, cost transformation, digital experience and digital services, and shows if, where and to what extent DTx is beginning to have an effect on a number of largely financial outcomes.
In this report, we answer the following questions.
How important is digital transformation to operators? Is it genuinely transformational or does it simply represent the latest set of incremental changes to processes and products?
What is the evidence that digital transformation strategies are having a positive impact on the following areas of operators' financial performance?

profitability, productivity and cash flow
the balance of assets in businesses
their valuation.

What should a successfully executed digital transformation strategy deliver in financial terms?
---
Digital scores (ambition) versus enterprise value/EBITDA multiple, FY2017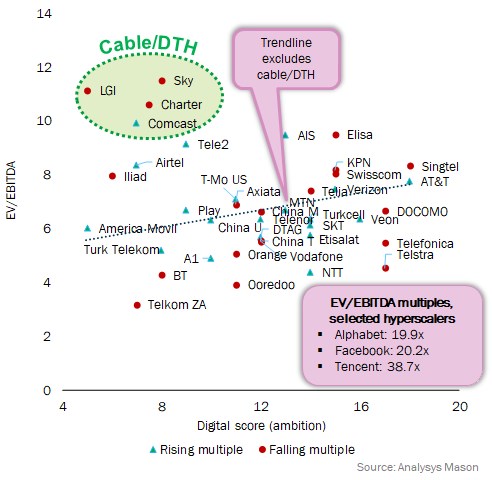 ---
Sample pages
---
Click on the sample pages or download the PDF (914KB).
USD 4999
Contact us
Denotes mandatory fields
Log in
Log in to check if this content is included in your content subscription.