Enterprise communications: growth opportunities for telecoms operators Vol II
"Welcome to our second collection of articles on the enterprise communications market."
Download our free white paper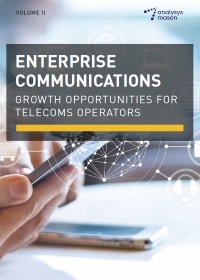 The enterprise market continues to offer tremendous opportunities for telecoms operators and, as these articles show, there are plenty of examples of best practice in this area. However, we must not ignore the challenges – as the connectivity market becomes saturated, growth will come from forming partnerships with others and moving into new product areas. The articles in this collection, and in our broader research, explore these issues further.
We have been expanding our research coverage of the enterprise market since early 2017 to complement the many consulting projects we have completed over the years. Our research now includes over a hundred reports, forecasts, articles and surveys on strategic issues facing telecoms operators in the enterprise market. We have worked with over 100 clients on a range of strategic, regulatory and technical projects relating to the enterprise market.
The articles include:
Incumbent operators' enterprise portfolios are underperforming compared to their consumer divisions
Operators should consider targeting micro enterprises to sustain and increase enterprise revenue
Cisco and BroadSoft are a good fit for each other and for their operator customers
Telstra Enterprise demonstrates the impact of investing in digital transformation on revenue growth
Operators struggle in enterprise ICT services – acquisitions may provide a route into this market
Telecoms operators could benefit from the growth in cloud markets that is driven by global IT players.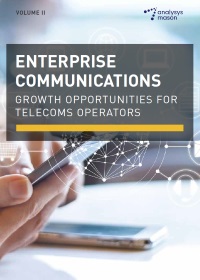 DOWNLOAD WHITE PAPER
Articles looking at the current state of the enterprise market, and where opportunities and challenges are.
Download your free copy