Enterprise communications: growth opportunities for telecoms operators
"All telecoms operators interested in the enterprise market are facing similar challenges"
Download our free white paper
This is our first collection of articles on the enterprise communications market.
Telecoms operators that are interested in the enterprise market are facing similar issues in all countries; they want to defend existing revenue and find new sources of growth. In high-income countries, these issues are particularly pressing because enterprise revenue for most operators declined in 2016. In middle-income countries, operators are under less pressure – enterprise revenue continues to grow – but even here, as markets approach saturation, price competition will intensify and new service revenue will be needed.
Operators have the option of providing enterprises with security, SaaS, IaaS, hosting, IoT and pay TV services, but all will require operators to adopt new ways of working.
This collection of articles will help operators to understand these new services, and provides ideas and suggestions for implementing them.
The articles include:
Singtel outperforms a declining telecoms enterprise market
Enterprise telecoms survey: operators must do more to overcome customer dissatisfaction
Security-as-a-service solutions
KPN analyst day: its focus is on healthcare, government and manufacturing verticals
Colt analyst day: Colt focuses on high-quality connectivity services while other operators diversify
Operators in Asia with fixed-mobile convergence ambitions should consider the opportunity presented by small and medium enterprise ICT.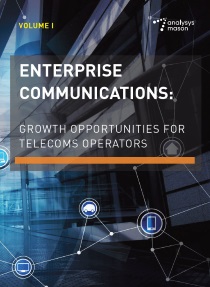 DOWNLOAD WHITE PAPER
Exploring issues and opportunities for telecoms operators looking into the enterprise communication market.
Download your free copy
Enterprise video
Results of our survey of 1600 enterprises