India internet monthly newsletter, August 2019
"The third (August 2019) edition of Analysys Mason's monthly newsletter features articles on the internet and digital markets in India."
FREE NEWSLETTER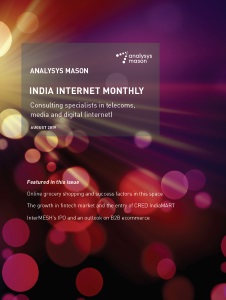 The internet/digital market in India has been busy with activity from start-ups and investors alike. In this edition for August 2019, we assess the recent developments in three sub-sectors within the digital/start-up space and draw upon insights from our analysis and discussions with investors.
Specifically, this month's articles consider:
1. the online grocery space, with an emphasis on the key success factors that players in the market need to focus on
2. the fintech market, particularly CRED's offering in this space and the recent attention that it has received from investors
3. the B2B e-commerce sector, IndiaMART InterMESH's successful IPO and the prevalent business models in this sector.
Revenue in the online grocery market is growing rapidly in India, driven by increasing broadband penetration and changing consumer behaviour. Revenue in the market is expected to grow at a CAGR of 41% over the next few years and will reach USD4.5 billion by 2023. Most players in the market have adopted an inventory-led business model to build customer loyalty and increase operating margins, but there are five critical factors that can help online grocers to differentiate themselves and gain market share.
The fintech market in India has grown significantly thanks to rising internet penetration, favourable government regulations and improving digital infrastructure. Investors continue to fund payment start-ups in the fintech market. CRED is one such start-up that has gained significant attention from investors recently. It is a rewards-based platform that enables credit card users to pay their bills and earn rewards in the form of cashback, discount coupons and free gifts. However, it will need to explore other monetisation strategies soon in order to build a sustainable business model, just like some of the other leading start-ups in the payments space.
The successful initial public offering (IPO) of IndiaMART InterMESH in July 2019 is testimony to the increasing prominence of the B2B e-commerce sector in India. B2B e-commerce sales in India are expected to grow at a CAGR of 24% over the next few years and will reach USD1458 billion by 2023. This article discusses recent investment trends and the business models that are being adopted by key players in this sector in India.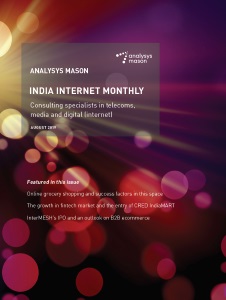 Download
This edition of our monthly newsletter features articles about the online grocery shopping space, the fintech space and the B2B e-commerce market in India.
Download your free copy
Download
Denotes mandatory fields