IoT opportunities for telecoms operators (volume V)
FREE WHITE PAPER
With this collection, as with the previous editions, we aim to bring you a selection of the best of our thinking on IoT from our consultants and analysts.
If anything, the IoT market is developing more quickly now than before. NB-IoT and LTE-M have moved from test labs to real, large-scale networks. In turn, this is leading to different business models, which may be better exploited by MVNOs, creating a possible threat for operators.
Responses to the persistent question of value chain position are also changing. Horizontal capabilities are becoming increasingly commoditised, and operators (and the vendors that support them) need to grapple with the solutions for vertical markets, even if this takes them into unfamiliar territory.
There are also new opportunities, such as in the vehicle-to-everything (V2X) market, which operators may be able to exploit. All of these developments take place against a backdrop of IoT revenue that is growing but not booming. Tricky questions will be raised if this growth begins to slow, as this this could jeopardise investment plans.
More about this report
The following articles are included in this issue.
IoT revenue and connections continue rapid, but not explosive, growth. We explore the published data from operators on IoT revenue and connection numbers.
Contract wins by IoT MVNOs mean they should not be ignored by MNOs. We consider what impact IoT MVNOs are having on the market and how all suppliers should differentiate their offer.
KPN's modular approach to IoT may inspire other telecoms operator. KPN's model for IoT and its role on the value chain has evolved over the years. We outline the lessons for other operators.
Vendors must offer telecoms operators more than a horizontal platform to realise operators' IoT ambitions. We describe how vendors can help to unlock the IoT market for operators.
China will lead the world in NB-IoT, which will benefit Chinese vendors and the ecosystem worldwide. China is at the forefront of NB-IoT. We assess the implications for other players in the NB-IoT world.
Cellular V2X (C-V2X) could fulfil a market need, if the commercial timing is right. We examine the potential for C-V2X to support connected and autonomous vehicles.
As always, please let us know of your feedback or comments on these articles.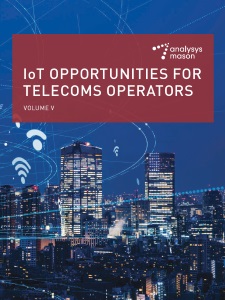 Download IoT opportunities for telecoms operators (volume 5)
This white paper is our fifth collection of articles based on the IoT market and assesses the impact of IoT developments on telecoms operators.
Download your free copy