How communications service providers can harness customer data for competitive advantage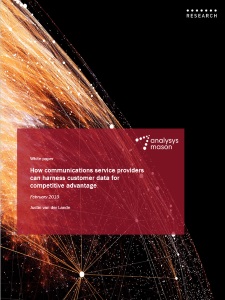 Most communications service providers (CSPs) understand that they need to improve their ability to capitalize upon the customer data that they have at their disposal. Over-the-top (OTT) providers have shown how to monetize customer data, but only a few leading CSPs are generating significant revenue from selling customer data. The case for monetization is growing because CSPs' margins are under pressure. Data privacy regulation, the lack of appropriate technology deployed by CSPs along with their difficulty in retaining skilled staff add to the challenges of offering new services. Furthermore, CSPs need to develop new marketing and sales skills and organisational structures to support the new services. These challenges can be addressed through the help of vendors and partners that have the experiences, technology and skills to support CSPs.
Many organisations are using customer data to create valuable business insights. The phrase 'data monetization' has become a general way of describing two different activities.
External monetization. The use of data to create profiles of people or entities that can be sold to partners for advertising and market insights. Data monetization platforms (DMP) hold data and make insights available for these use cases.
Internal monetization. The use of customer data to optimise internal processes for personalising customer interactions, optimising operational processes, and using capital assets and resources. Insights are made available through embedding them in applications, through analytics tools/platforms or by providing insights through APIs.
More about this white paper
Analysys Mason conducted a survey of 60 CSPs worldwide in January 2019 to understand how CSPs are approaching the opportunities that monetising customer data has to offer and the challenges that they face.
Advanced CSPs understand the opportunity that data monetization has to offer but are prioritising internal monetization – 65% of them in our survey are actively working on internal use cases, while only 44% are actively working on external monetization use cases.
The challenges to implement data monetization for internal and external use cases are similar, for example 20% of respondents cited the lack of skilled data scientists as a challenge when considering internal and external data monetization use cases. However, external monetization has additional challenges – 32% of respondents to our survey asserted that regulatory considerations were a significant challenge for external monetization use cases.
CSPs understand that in order to differentiate themselves from competitors they must continue to innovate by supporting new services and optimise their current operations. The use of analytics tools to support them in this quest is critical in providing accurate and timely data-driven decisions. Our survey identified the Chief Marketing Officer as the organisational head of data monetization – 36% of respondents confirmed this, while only 21% of respondents identified the Chief Information Officer as the person in charge of data monetization initiatives.
Marketing departments in CSPs are the most active in the use of customer data and are increasingly supported by cloud-based services to address common issues of staff lacking key skills and fragmented data stores. In fact, 61% of the survey were using cloud-based services for data storage or analytics tools.
This document provides analysis based on Analysys Mason's survey and assesses the opportunities and challenges that CSPs face when considering using customer data to generate new revenue streams.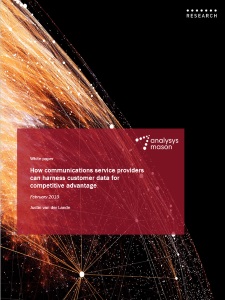 Download
This white paper uses data from Analysys Mason's survey of 60 CSPs worldwide to understand how CSPs are approaching the opportunities that monetising customer data has to offer and the challenges that they face.
Download your free copy