Reimagining service assurance for NFV, SDN and 5G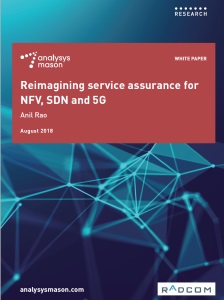 Network function virtualization (NFV) and software-defined networking (SDN) technologies introduce fundamental changes to the way telecommunications networks and services are built and managed. Based on the principles of cloud infrastructure, software control and automation, NFV and SDN are among the most important enablers for the transition of traditional communications service providers (CSPs) to digital service provider (DSPs). Along with a highly agile and flexible cloud network infrastructure, DSPs will be able to rapidly introduce innovative communication and digital services, achieve automated operations, offer superior real-time digital experiences, and generate new revenue streams through 5G and IoT services.
The network virtualization evolution is occurring over three overlapping phases introducing new assurance requirements that existing systems cannot fulfil. In the virtualization phase, physical network functions being ported to software and virtual form factors on commercial hardware require new monitoring and virtual passive probing capabilities; in the orchestration phase, the virtual functions are dynamically provisioned and strung together to create network services, which requires the assurance functions to be tightly integrated with orchestration systems to support closed-loop automation and adapt to the changing network configuration; and finally, in the cloud native phase the network functions are rearchitected as containerized applications running in a highly automated cloud environment, which requires granular and containerized assurance supporting the goal of achieving zero-touch networks and autonomous operations.
More about this report
However, the journey to cloud native networks and autonomous operations is not going to happen overnight. The existing physical networks will coexist with the new NFV networks for the foreseeable future, creating a complex network environment and introducing a new dimension of assurance and operations complexity.
New-age automated assurance systems must provide monitoring and operations automation capability for hybrid physical, virtual and cloud native networks and services. They must also support the new NFV/SDN-enabled 5G/IoT networks and associated use cases around ultra-low latency, edge clouds and network slicing.
CSPs and vendors must reimagine service assurance to support these business and technology imperatives. The new-age service assurance systems must demonstrate six key traits (see Figure 1), with the ability to exploit the inherent capabilities of cloud-based networking infrastructure and a roadmap to support autonomous operations.
Figure 1: The six key traits of new-age service assurance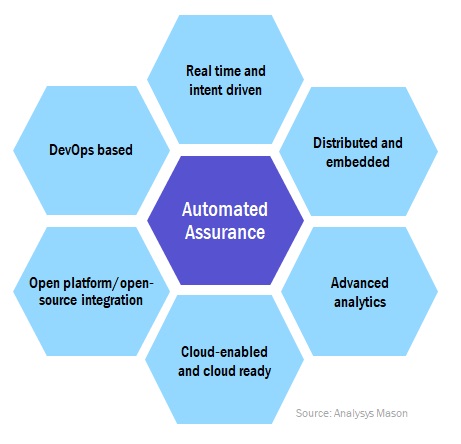 These new systems must also comply with the plethora of industry organizations and CSPs such as The Linux Foundation's Open Network Automation Platform (ONAP), ETSI's Open Source MANO (OSM), MEF Lifecycle Service Orchestration (LSO), AT&T Domain 2.0 and Network 3.0, Telefónica Unica, etc. New assurance systems must also be powered by a new-age network visibility platform that supports diverse form factors to support a hybrid network and enable the CSPs' virtualization evolution towards cloud-native network and operations environment.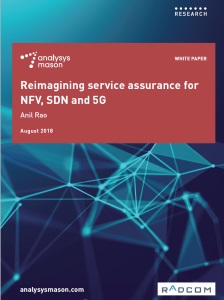 Download
This white paper identifies six key traits of new-age service assurance systems for the virtualised age.
Download your free copy