Assurance-driven network automation is key to 5G success
"5G is expected to revolutionise CSPs, enable the digital transformation of whole industries and enterprises and change our societies forever, but the required technology will make networks and operations more complex than ever before."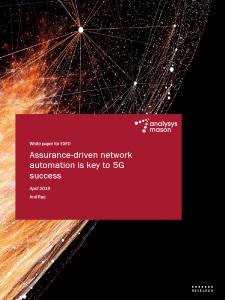 5G is being heralded as a revolution with the potential to transform communications service providers (CSPs), enable the digital transformation of whole industries and enterprises, and change our societies forever. Early 5G use cases based on non-standalone (NSA) deployment will deliver multi-gigabit enhanced mobile broadband (eMBB) services to consumers, but, it is the new business and economic opportunities offered by standalone (SA) 5G in the form of ultra-reliable low latency communications (URLLC) and massive machine-type communications (mMTC) use cases for other industry verticals that are exciting the stakeholders and partners across the spectrum including industries such as manufacturing, automotive, utilities, and healthcare and emergency public services.
To support such diverse industries with a broad array of use cases and varying demands such as service dynamicity, quality of service and latency requirements, the industry is building the 5G network based on innovations such as service-based architecture (SBA), network functions virtualisation (NFV), cloud-native computing (CNC) and software-defined networking (SDN). 5G networks will also incorporate edge clouds and network slicing technology; edge clouds will bring high-performance computing closer to the point of service use to support low-latency and Internet of Things (IoT) use cases, while network slicing will offer quality of service (QoS) and service-level agreements (SLAs) based differentiated services to enterprises.
More about this report
However, these technological innovations introduce significant network and operational complexities that must be managed to deliver on the promise of 5G. Traditional service management and operational approaches that were built to support physical networks delivering mass market communication services are not fit for purpose. High levels of network automation underpinned by dynamic and automated assurance will be necessary to operationalise 5G networks and services at scale.
Assurance for 5G must be built on four key pillars.
Provide unified monitoring spanning the 5G cloud core, xHaul (backhaul/front-haul), edge clouds and the 5G New Radio, and incorporate Layer 0–7 monitoring including the application layer.
Provide dynamic assurance with the ability to adapt and scale with the network functions, service chains and network slices as they are instantiated and modified.
Provide machine learning and artificial intelligence (ML/AI)-based predictive assurance and root cause analysis using real-time network and service topology.
Assist closed-loop automation by empowering management and network (MANO) systems with policy-driven precise actions to execute the configuration changes into the network.
To achieve the overall automation goals of 5G, CSPs are deploying network automation platforms such as Open Network Automation Platform (ONAP) and other vendor-specific commercial solutions that automate the network and service lifecycle management. These platforms consist of disaggregated and loosely coupled software components that combine the full range of capabilities to automate service design, manage the lifecycle of network functions, service and resource orchestration and automated closed-loop assurance. Other industry bodies such as TMForum and MEF are proposing best practices and operational frameworks that provide the base specifications for network automation. To fully realise the benefits of network automation, assurance systems must become an integral part of the CSPs' preferred automation platforms and frameworks.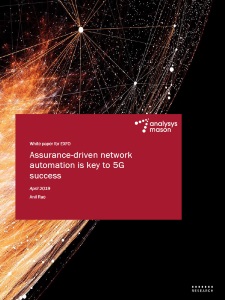 Download
This white paper assesses the four key pillars of assurance systems that CSPs will need if they are to fully realise the benefits of network automation for 5G.
Download your free copy