Enterprise communications: growth opportunities for telecoms operators Vol III
"Welcome to our third collection of articles on the enterprise communications market."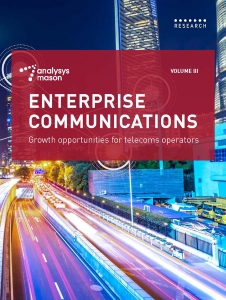 The enterprise market is hugely important for telecoms operators. Most incumbents generate between 20% and 40% of their total revenue from the business segment, yet good information on this market is hard to find. Operator reporting is often poor and much of what happens in the enterprise market is simply not as visible as in the consumer space.
This set of articles, our third on the enterprise market, aims to rectify this by providing high-quality commentary from our analysts and consultants.
The articles include:
Seven areas of uncertainty in the enterprise communications market
Telefónica's M2M and enterprise security services are performing well, but cloud services are a challenge
Analysys Mason's research shows that business pay TV accounts for a sizeable share of overall pay-TV revenue
Customer care is the key opportunity to differentiate fixed services for large enterprises
Huawei's move to provide enterprises with a one-stop public cloud and network service threatens operators
Rackspace's infrastructure-agnostic managed cloud services brings it into competition with many operators.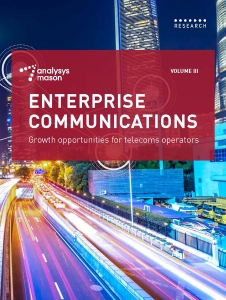 Download
Articles looking at the current state of the enterprise market, and where opportunities and challenges are.
Download your free copy