India internet monthly newsletter, July 2019
"The second (July 2019) edition of Analysys Mason's monthly newsletter features articles on the internet and digital markets in India."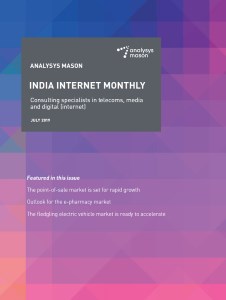 In the July 2019 edition of our India internet monthly newsletter, we assess three new sub-sectors within the digital/start-up space that have been the focus of many of our recent discussions with investor clients.
This month's articles focus on the following three areas: the point-of-sale (POS) devices space (and particularly Jio's entry into this market), the e-pharmacy space and the investor interest in this market (and last week's USD70 million investment in one of the players), and the electric vehicle space, which has experienced significant investor interest (one of the leading founders in this market, Aishwarya Kacchal, has contributed to this article).
The digital transaction market, particularly the POS devices sub-segment, in India is set for rapid growth thanks to the government's push on adoption of digital technology and financial inclusion of more than 60% of India's rural and semi-urban population. Around 80% of the retail market in India is still unorganised. Tier-2 and Tier-3 cities and rural areas are still highly underpenetrated in terms of POS terminals. As more customers and merchants adopt digital modes for transactions driven mainly by the proliferation of technology and ease of use, the POS sector will be worth USD400 billion by 2022. This represents growth at a CAGR of 20%, and POS transactions will account for 14% of total private final consumption expenditure in India by 2022.
The e-pharmacy market in India is at an early stage with online sales contributing to just 1.5% of total pharmacy retail sales. However, the e-pharmacy market is likely to grow at a CAGR of about 54% to reach about USD2.1 billion by 2023, up from USD370 million in 2019. Growth will be driven by the strong value proposition of e-pharmacies for end consumers, increased investment activity in the sector and the expected government regulations. The unit economics of the e-pharmacy players are expected to improve as discounting reduces and economies of scale are realised in order fulfilment.
The electric vehicle market in India is still in a nascent state, accounting for less than 1% of the total number of automobile sales in FY2019. This is primarily because of high upfront prices, a lack of publicly available battery-charging infrastructure and a lack of good-quality products. However, a few inflection points, such as a well-defined policy roadmap and the entry of established original equipment manufacturers, could propel the adoption of electric vehicles over the next few years. Driven by these inflection points, we expect the market to grow to 7 million units by FY2024, up from 0.8 million units in FY2019.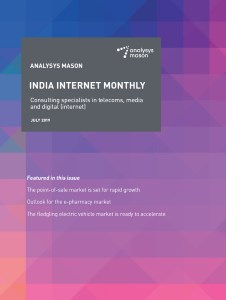 Download
This edition of our monthly newsletter features articles about the point-of-sale (POS) devices space, the e-pharmacy space and the electric vehicle market in India.
Download your free copy
Download
Denotes mandatory fields