Internet monthly newsletter, June 2019
"This first edition of our monthly newsletter features articles that relate to the news and developments in the internet and digital space in India and worldwide."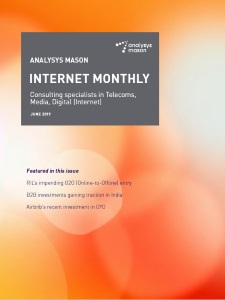 Analysys Mason has advised on more than 150 transactions in the internet and digital space in India and worldwide during the last decade. Around 55% of our commercial/business diligence work has led to successful investments, most of which have multiplied in value and we thought it was high time that we shared non-confidential insights from our work with a broader group. Analysys Mason's body of work includes not only the internet and digital sectors, but the broader telecoms, media and technology (TMT) sectors – we have advised on more than 300 TMT transactions in the last 5 years, including on topics such as explosion in mobile data, content monetization, 5G, AI, blockchain, and SaaS, all of which will continue to have a direct and convergent impact on investors and start-ups within the internet and digital ecosystem going forward. From the time we advised on our very first horizontal ecommerce investment in India using growth in the number of mobile phones as a proxy for forecasts, to the quarters spent debating whether gross merchandise value (GMV) on its own was the best measure of success or not (clearly it wasn't!), to now when a lot of our conversations with investors have turned to topics such as unit economics in B2C internet start-ups, use of AI, and SaaS-driven B2B start-ups – the sector and ecosystem have clearly come a long way.
With all this in mind, it gives me great pleasure to launch our monthly newsletter, which will present insights on topics relevant to the internet and digital investor and entrepreneur ecosystem. Each edition will feature, analyse and present a couple of key relevant topics. As we've always said: "... quality over quantity …". Our first edition assesses three recent and important events:
The emergence of Reliance Industries Limited (RIL) as an ecommerce player
The recent focus of investors on B2B start-ups and rationale around the same
Airbnb's recent investment in Oyo.
In future editions, we'll continue to provide commentary on recent trends and investments, while mixing it up with our insights on cutting edge topics impacting the internet/start-up ecosystem in India. I hope you enjoy reading the articles as much as we enjoyed putting them together.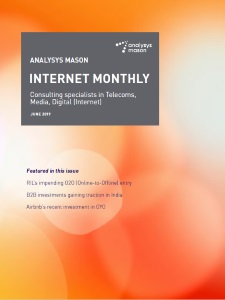 Download
This edition of our monthly newsletter features articles about Reliance Industries Limited (RIL), the B2B start-up market in India and Airbnb's investment in Oyo.
Download your free copy
Download
Denotes mandatory fields