Authorising 26GHz spectrum for 5G use

Report prepared by Analysys Mason on behalf of the Spectrum Policy Forum (SPF)
The UK Spectrum Policy Forum (SPF) has published a report on authorising the 26GHz band for 5G use in the UK, based on discussions within the SPF Cluster 1 working group in 2017.
The report, prepared by Analysys Mason on behalf of the SPF, summarises the key findings and conclusions from the SPF's discussions during 2017 on licensing of 5G in the 26GHz band, as follows:
The licensing approach for 5G in the 26GHz band should provide certainty around spectrum availability for 5G, enabling provision of predictable network performance for a diverse range of 5G use cases.
The licensing approach should also take proper account of the conclusions of the CEPT/ITU-R sharing studies, including the need to enable the continued, viable and sustainable use of the 26GHz band by other primary space services.
Award(s) of spectrum for 5G use in mm-wave bands that enables operators to benefit from economies of scale in a global equipment market is favoured
There is likely to be diversity in MNOs demand for 26GHz spectrum based on alternative business cases, with consequential coverage and capability differences. It would be desirable to have flexibility in spectrum use, including ability for MNOs to acquire different spectrum amounts and ability for verticals and/or other sub-national operators to gain access to spectrum, as well as for new business models to emerge. This could be aided if 5G licences allow for spectrum leasing to occur, which, if not possible in initial licensing, should be viewed as a longer-term aim.
Since the basis of demand for 5G spectrum in 26GHz is likely to be to provide highly predictable network performance for MBB and other potential ultra-reliable, low-latency 5G use cases, certainty over the amount of spectrum available at different locations is key.
These key points are summarised in the figure below.
Figure 1: Summary of industry views on authorising 5G [Source: Analysys Mason, 2017]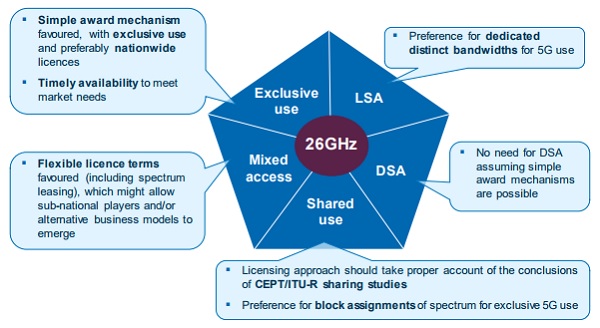 The full report is available here.