Managed service provider revenue grew in 2017 thanks to customer demand and market consolidation

The managed service provider (MSP) market continued to exhibit revenue growth in 2017. The pace of growth slowed to 8.0% on average in 2017 compared to 15.1% in 2016 (see Figure 1), but remains strong as businesses turn to MSPs for a wide range of products and services. The rate of growth in 2017 varied depending on provider – for example, India's 8K Miles' revenue increased by 60.7% year-on-year, while Brazil's BRQ IT Services' revenue declined by 11.9%. The fast pace of change in the market means this volatility will continue.
This article examines the reasons for the strong revenue growth in this market and is based on the data in Analysys Mason's Managed service providers revenue tracker.
Figure 1: Revenue growth by MSP, 2016–2017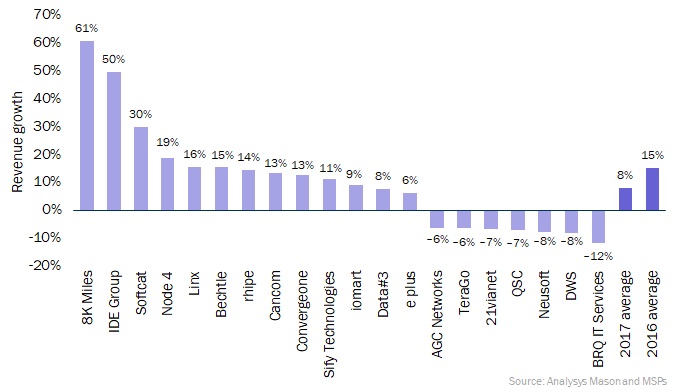 Growth in MSP revenue can be attributed to three trends:
rising demand for managed cloud services
businesses increasingly looking to MSPs to provide these services
acquisitions in the MSP market.
The MSPs that exhibited the strongest growth have capitalised on a combination of these trends (see Figure 1). Softcat is an exception because it has not made any acquisitions. Instead, it has grown organically by offering a broader range of products and services and cross-selling these to existing customers: the provider reported that gross profit per customer increased by 23% in the first half of 2018. IDE Group, the second-fastest-growing company, has diversified its portfolio to capitalise on rising demand, launching a new cyber security unit and focusing on improving its cloud services.
In contrast, DWS's revenue declined by 8.3% in 2017, as it struggled to find IT consultants and its clients were looking to reduce IT spend. DWS acquired local IT consulting firm Projects Assured in June 2018 in a bid to address this decline in revenue and gain more consultants. Its 2018 half yearly report indicates that the acquisition is bringing in new business.
Acquisitions are providing MSPs with expertise, revenue and new capabilities
MSPs have made numerous acquisitions to diversify their service portfolios and technical expertise. There is a clear strategy of buying specialised, regional firms to strengthen the existing MSP. Cancom's revenue grew by EUR138 million (USD165 million) in 2017, of which EUR51.8 million (USD61.8 million) was attributed to the acquisition of three small IT service providers in 2016 and 2017.
UK-managed cloud specialist iomart increased its revenue by 13.7% in 2017, aided by the purchase of three UK-based cloud solution providers, two of which specialised in Magneto hosting (an open-source ecommerce platform). Of the GBP8 million (USD10 million) rise in iomart's cloud service revenue between 2016 and 2017, GBP5.4 million (USD 6.8 million) was attributed to the impact of acquisitions.
Brazilian provider Linx has pursued an aggressive growth strategy, acquiring over 18 companies in the last decade. Linx specialises in software management in the retail sector and has built up its portfolio to expand into different areas of retail. Linx acquired Brazilian ecommerce firm Shopback in 2017, when Link stated that 85% of Brazilian ecommerce goes through Shopback's cloud platform. Linx followed up with the purchase of Percycle, which provides a platform for advertising within ecommerce sites. These acquisitions have enabled Linx to increase its expertise in the ecommerce space and subsequently generate a new source of revenue: Linx's service revenue in 1Q 2018 was up 14.5% year-on-year, which the provider largely credited to the positive impact of the 2017 acquisitions.
A spike in demand for managed cloud services has given MSPs the chance to increase recurring revenue
Many enterprises are moving to cloud services, providing increased revenue opportunities for MSPs. Moving to the cloud can be a complex process that needs considerable support, enabling MSPs to generate significant revenue from the initial migration. The challenge for MSPs is to generate recurring revenue after the initial project.
Cloud services make bundling with other services such as security, collaboration and remote management more straightforward than with on-premises solutions. For MSPs, this presents the opportunity to offer a comprehensive managed service, which can drive recurring revenue. Linx has successfully adopted this approach, estimating that 45% of its recurring revenue came from the cloud in 2017, up from 30% in 2013.
8K Miles' revenue grew by 94.3% and 60.7% in 2016 and 2017 respectively, and recurring revenue increased four-fold from 2015. The company has focused on providing high-quality cloud services, with a niche in the healthcare and life science sectors. Consulting revenue growth was flat from 2016 to 2017 (see Figure 2), yet revenue from cloud and other managed services (including post-migration services such as security, automation and analytics) has grown strongly. This highlights the success that 8K Miles has had in providing additional cloud services to existing clients, with recurring revenue increasing as a result.
Figure 2: 8K Miles' revenue by segment type, 2015–2017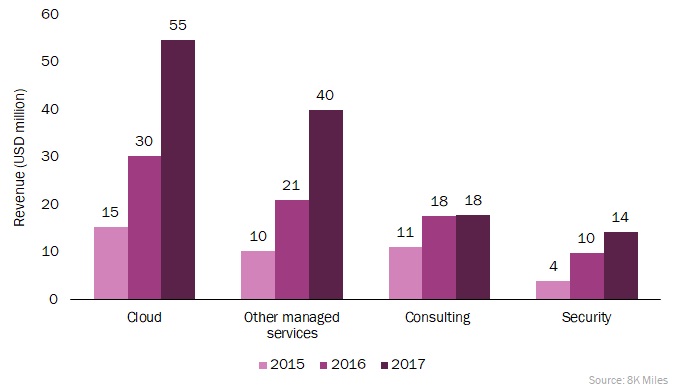 We expect strong growth to continue in managed IT services
We expect to see MSP revenue continue to grow strongly in 2018, driven by a similar mix of consolidation and strong demand from businesses. Indeed, out of nine MSPs reporting 1H revenue, six reported revenue growth of 10% or greater in the first half of 2018 (see our Managed service providers revenue tracker). Further acquisitions are likely as MSPs expand their portfolios, particularly in the cloud services segment, which will continue to be a key driver of growth. The key challenges for MSPs are successfully managing the acquisitions and integration process and continuing to evolve their product offering in response to client demands.