SAP: SAP Leonardo IoT platform and solutions
SAP has leveraged its expertise in database management system to move into the IoT platform space. SAP Leonardo is a comprehensive platform that supports digital business technologies including IoT. The platform offers horizontal IoT device management and application enablement capabilities.
This company profile provides:
a company summary
a financial analysis
analysis of the company's strategic direction
product summary
an overview of significant customers
analysis of strengths, weaknesses, opportunities and threats.
---
More information from this report
SAP is a global software provider that offers a range of enterprise resource and operation management solutions and services. The company is primarily known for its business applications, particularly its enterprise resource planning (ERP) software and the SAP HANA data platform, which acts as the foundation layer for cloud and on-premise business suites. SAP operates 47 data centres in 29 locations across 14 countries.
The company's innovation strategies include internal development, customer and partner co-innovation and acquisitions. SAP's research and development division includes 28% of the company's employee headcount. The R&D expenses accounted for around 14% of 2016 revenue. Spend on R&D was equivalent to 14% of revenue in 2016.
Building on its database system and following a series of IoT partnerships (including partnerships with Cisco Jasper and T-Systems), SAP launched its SAP Cloud Platform for the Internet of Things in May 2015. The solution focused on leveraging the company's cloud capabilities to offer device and data management support for IoT applications.
To strengthen its IoT offering and expand the solution features, SAP made a number of acquisitions in 2016 including Plat.One and Fedem Technology. In 2017, SAP rebranded and launched its IoT platform as SAP Leonardo. The solution provides a modular platform based on several SAP components for device management, application enablement and analytics.
Figure 1: SAP company facts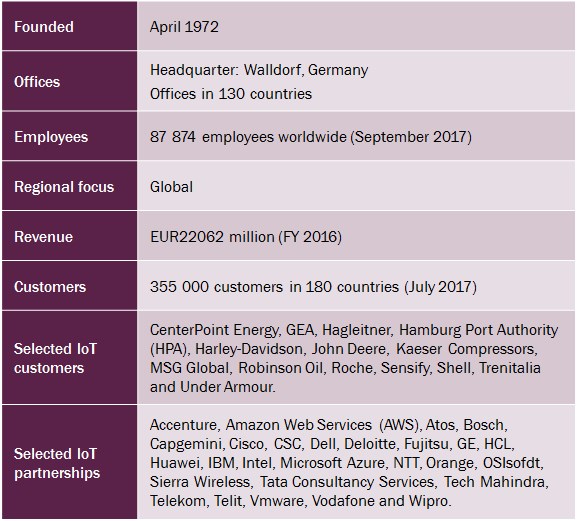 USD 999
Contact us
Denotes mandatory fields
Log in
Log in to check if this content is included in your content subscription.