Unlocking digital opportunities with 5G: a GCC outlook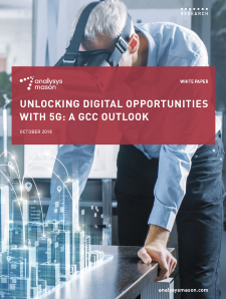 The fifth generation of wireless technologies, known as 5G, is expected to have a profound impact on peoples' lifestyles, societies and economies globally, stretching far beyond the telecoms industry and its users. In this white paper we analyze 5G and its value in the context of the Gulf Cooperation Council (GCC) region and provide recommendations to the region's telcos, governments and regulatory bodies on how to maximize the value the technology is expected to generate for them.
Digitalization is transforming economies and societies, and 5G will be one of its key enablers. For consumers, digitalization provides the promise of a more ubiquitous, convenient and personalized access to these services, while fostering innovation and the development of new products (for example, entertainment based on augmented reality (AR) and virtual reality (VR), consumer drones and robots). For enterprises, new digital services based on artificial intelligence, analytics, virtual reality, industrial Internet of Things (IoT), and drones are expected to produce long-term gains in efficiency and productivity. For the wider society, digitalization, enabled by 5G is expected to generate environmental benefits, enhance safety and create additional jobs.
More about this report
The internationally agreed vision for 5G technology is that it will lie at the heart of the future digital economy and society. 5G's technical capabilities – i.e. very high (>1Gbit/s) data speeds, high and reliable network availability and low latency communications in the densest environments – will not only enhance the delivery of existing mobile broadband services, but are also expected to support a wide and diverse mix of completely new solutions and services.
Most GCC governments have not yet formally included analysis of the value of 5G in their policy documents. However, with one of the highest rates of mobile and fiber adoption in the world, the GCC region is well positioned to benefit significantly from 5G. In the GCC region, 5G could generate an estimated cumulative new revenue opportunity over ten years totaling USD273 billion (see Figure 2), a large share of which will be addressable by telcos.
However, to address this opportunity, and truly reap the benefits of 5G's potential in the next decade, the GCC region needs to become more '5G ready' now. The results of Analysys Mason's 5G country readiness benchmark analysis suggest that, on average, the GCC region is behind the leading benchmark countries (USA, Japan, South Korea and China) in terms of both regulatory readiness and operator readiness criteria. However, the range of scores for regulatory and operator readiness achieved by individual GCC countries is very wide, with the UAE being the most 5G-ready country in the region. On the regulatory front, the region needs more focus on industry vertical policies for 5G. On the operator front, more focus on network virtualization, automation, and digital experience will be needed in the near term.
To really benefit from 5G capabilities, operators need to tie their 5G vision and roadmap closely to their digital transformation strategies. Traditional business models and 'ways of doing things' will not be sufficient to enable operators to make the most of 5G opportunities. Operators will need to introduce network slicing to expect revolutionizing business models and service pricing. Network slices will be created on demand and will be independently controlled and managed with the degree of customization that could previously only be achieved with dedicated physical networks. The use of network slicing means partners can be integrated into a network platform in similar ways as on a dedicated private network, but with far less integration effort. It will also enable operators to expand their role from connectivity to other areas of the value chain – such as cloud and edge services, orchestration, and applications. In these areas, operators will meet new competitors too and they will have to fight hard for their new value-chain roles.
Operators, and the telecoms industry as a whole, should not be looking for a single 'killer' 5G use case. Instead, operators will need the agility that digital transformation will bring about to enable and benefit from many possible 5G digital services, through new partnerships and new business models. GCC operators should focus on 5G use cases that will deliver the greatest benefits in the short run and consider smaller-scale deployments at first to generate essential knowledge. Figure 4 on the following page summarises key 5G use cases that we believe will be attractive for the GCC region over the next ten years, and an expanded list of over 50 use cases is provided in Annex E. The rest of the paper provides a moredetailed analysis of the most immediate 5G opportunities. In particular, we believe that VR for on-demand video streaming and VR for 4K/8K live video streaming use cases should be considered by most operators in the region.
The rest of the paper is structured as follows:
Section 1 discusses the value that 5G is expected to generate for societies, economies and telcos in the GCC region
Section 2 provides an overview of the GCC context to 5G
Section 3 analyses the GCC region's readiness to embrace 5G from a regulatory and operator perspective
Section 4 explains why operators need to closely tie their 5G plans with their digital transformation efforts, as well as am overview of the most attractive 5G use cases
Section 5 discusses the critical success factors for GCC telcos, considering this potentially game-changing technology
Section 6 provides an analysis of the expected business impact of 5G for operators
We anticipate that this white paper will provide a starting point for further discussion specific to each market.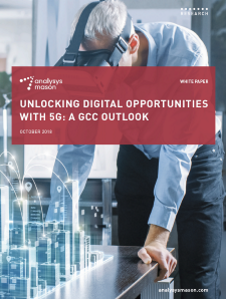 Download
This white paper provides an overview of the use of 5G in the GCC region, and outlines the steps that operators will have to take to make the most of the new technology.
Download your free copy
Download
Denotes mandatory fields