Cyber security: selling to small and medium-sized businesses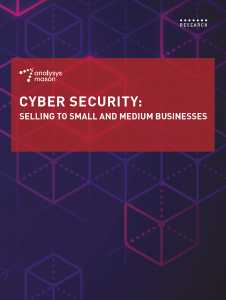 Many vendors give less attention to SMBs than to large enterprises. SMBs can be harder to serve, spend less, are more price-sensitive and often value ease of use over the performance or features of a solution. However, we believe that SMBs occupy an exciting area of the market; indeed, spend on security continues to grow as firms look to improve their protection. We forecast that SMBs' spend on security worldwide will almost double between 2019 and 2024 (from a starting point of USD50 billion). Limited vendor attention means that this market is not well-understood and is often poorly served, but it offers a lucrative opportunity for providers who do get their product right.
The articles featured in this brochure give a flavour of our security research. They cover the following topics.
Cyber-security vendors' revenue is growing steadily, helped by acquisitions and strong demand.
Acquisitions are a standard way for cyber-security service providers to expand capabilities and presence.
Business survey 2019: almost 25% of small businesses feel that their cyber-security protection is inadequate.
Business survey 2019: cyber-security vendors need to change their approach to win in middle-income markets.
Sophos should become a more stable and stronger competitor thanks to its acquisition by Thoma Bravo.
Broadcom's purchase of Symantec's enterprise unit will create opportunities for other cyber-security players.
SMB cyber security
Download our first collection of articles looking at security, with particular focus on the SMB market.
Download brochure