The impact of 5G and next-generation networks on mobile opex spending
Mobile network opex has been stubbornly resistant to reduction in recent years, but it is essential to the 5G business case that it falls. This report argues that no single solution will achieve operator targets of up to 33% opex reduction by 2025, but sets out a combination of tactics which could deliver savings on this scale in the 5G era.
The report answers the following questions.
How can 5G, including its broader architecture, affect operating expenditure for operators?
What are the technology choices that will have the greatest impact?
When do we expect these technology and architecture changes to affect opex levels, and what will the regional patterns be?
What factors may prevent operators from achieving their opex reduction targets?
What is the most realistic timing to achieve an efficient operating cost base? Will slower movers benefit more than early adopters in certain scenarios?
---
Breakdown of targeted 5G opex savings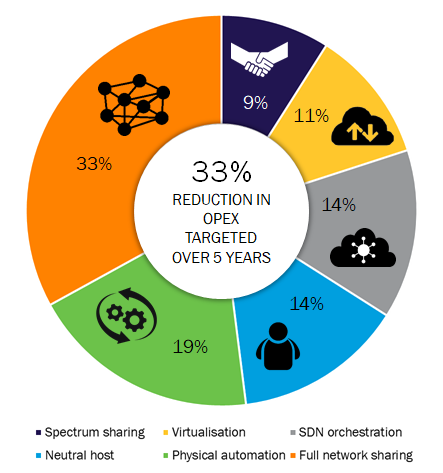 ---
Sample pages
---
---
Click on the sample pages or download the PDF (1MB).
USD4999
Contact us
Denotes mandatory fields
Log in
Log in to check if this content is included in your content subscription.