The crux of CSP-to-DSP transformation: agile architecture and open platforms
FREE WHITEPAPER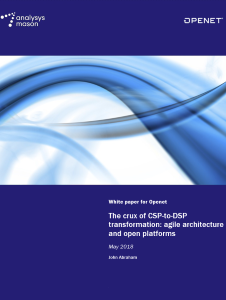 Most communications service providers (CSPs) worldwide are pursuing some sort of digital transformation. Across the industry there is broad acceptance that there is no one-size-fits-all approach to transforming the underlying infrastructure and that every CSP's digital transformation journey is a unique one. This is because a CSP's approach to digital transformation depends on a number of factors, the most important of which include its strategic priorities, competitive pressures, region of operation and state of existing infrastructure.
The bigger question for CSPs is how best to transition from a CSP to a digital service provider (DSP) without disrupting ongoing operations. One of the biggest bottlenecks in a CSP's digital transformation journey is its existing systems and architecture frameworks. Most CSPs are weighed down by legacy infrastructure and proprietary hardware systems, which severely restrict their ability to extract value from the deployment of new software systems. These traditional systems are deployed as monolithic software applications that cannot fully support modern requirements such as horizontal scalability, reusable modules, continuous integration/delivery and cloud-based deployment. CSPs therefore need to adopt modern methods of application development, architecture frameworks and deployment models in order to transform into software-powered entities.
More about this report
A microservices-based, cloud-native systems framework can provide CSPs with significant gains in efficiency and agility, in addition to decluttering a complex architecture. Achieving this visionary architecture will require extensive industry collaboration and may involve profound market disruption. A cloud-native framework has the potential to radically alter how CSPs engage with vendors, since it enables seamless interconnection among a variety of vendor partners, which can help to create an ecosystem of plug-and-play partners for software applications.
To accelerate their transition into DSPs, CSPs will need to embrace next-generation BSS and OSS systems (see Figure 1). The next generation of BSS and OSS systems, called the digital business platform (DBP) and digital network and operations platform respectively, will be designed for the cloud and will be based on a software platform model of operations. This will require CSPs to design and prepare for cloud-based architecture and delivery model models, which will also enable them to engage with a larger ecosystem of partner services.
Figure 1: Overview of the transformation of BSS and OSS to platforms for business and operations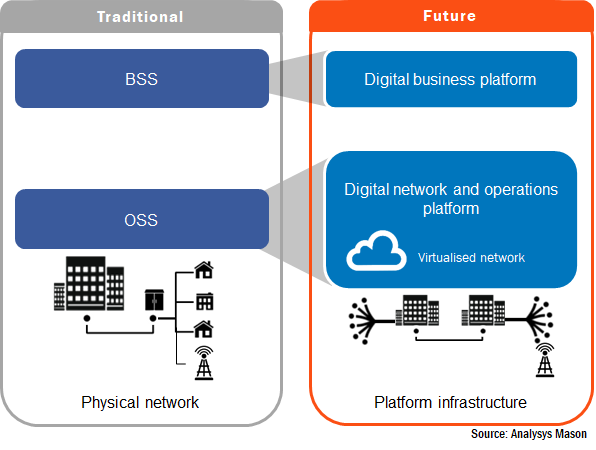 This white paper discusses the key factors which are driving CSPs to evolve their architecture and operations frameworks, and how the evolution to a cloud-native microservices-based architecture can significantly transform how CSPs engage with vendors.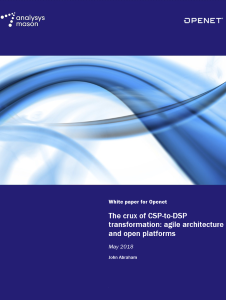 Download: The crux of CSP-to-DSP transformation: agile architecture and open platforms
This white paper discusses the key factors that are driving CSPs to evolve their architecture and operations frameworks.
Download your free copy