Advanced telcos are using centralised intelligence to deliver the full promise of AI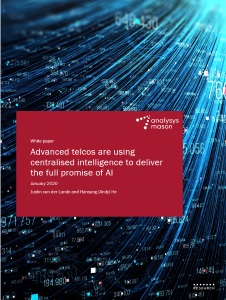 Centralised intelligence (CI) implementations are already underway with a wide acknowledgement that it is desirable; nearly 60% of communications service providers (CSPs) in our survey consider it to be a high priority.
For early adopters of CI solutions, automation was the primary motivation in 50% of cases. Concerns about job losses have yet to be realised; in fact, early adopters of CI have identified their most significant challenge as being not having enough trained staff.
More about this report
5G and its related requirements are going to need a CI approach to support the operational automation that will be required to run 5G processes efficiently. 5G will be the catalyst for significant operational change across the whole organisation.
CI implementation projects need strong internal leadership and support, with an ability to orchestrate and co-ordinate re-development of currently installed OSS/BSS applications and associated processes. This will need cultural change within most CSPs.
Data is the critical component in CI; having a clear process that governs data collection, its integrity and use are a critical pillar in CI success. Good-quality data is needed to drive high-quality timely insights. Tools that support this should be telecoms-aware, where possible, to reduce the effort and provide a library of models around which each CSP's specific needs can be rapidly built.
CSPs that want to deploy a CI solution need to begin by building a specific data layer. This will be a subset of any central data lake that is available. Use cases should be selected before the data components, to help reduce the amount of data needed and gain some early wins, which are critical for gaining support internally within an organisation.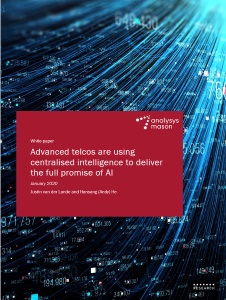 Download
This white paper explores the progress that telcos are making with implementing centralised intelligence solutions and is based on a survey of telco executives worldwide.
Download your free copy
Download
Denotes mandatory fields