End-to-end network orchestration: CSPs are taking a stepwise approach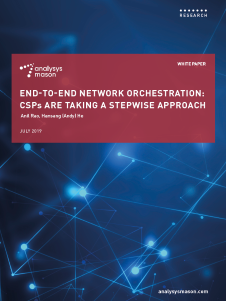 Network function virtualisation (NFV) and software-defined networking (SDN) technologies are transforming the way networks are designed, built and provisioned. At the heart of this transformation is the expectation that these technologies will enable communications service providers (CSPs) to achieve high levels of network automation to: reduce service delivery times from months to days or even hours or minutes; and automate the network optimisation and day-to-day operations to guarantee the contracted service levels and quality of service.
Based on the cloud principles of infrastructure flexibility and on-demand resource optimisation, NFV and SDN provide the key networking foundation for automation. However, to fully realise these benefits, CSPs require next-generation network management software, commonly known as network orchestration (NO). CSPs are taking two broad paths towards implementing NO – the NFV path for the service lifecycle management and orchestration of virtual network functions (VNFs), and the WAN SDN path for software-defined control and automation of the wide-area network (WAN). These two paths ultimately converge with the implementation of a fully integrated cross-domain network orchestration (CD-NO) system that performs the combined function of lifecycle management and WAN SDN across networking domains to create and provision services end-to-end.
More about this report
This white paper presents the findings of primary research (a survey of, and interviews with, CSPs) conducted by Analysys Mason to assess the status of NO implementations worldwide, the preferences of CSPs when choosing network orchestrators and the challenges encountered during the implementation. The key findings of the survey were as follows.
The survey unequivocally proved that CSPs worldwide are considering or deploying some form of NO to operationalise NFV- and SDN-based networks.
More than half of the CSPs surveyed said that network automation was a top-3 strategic initiative, and it was the main motivation to deploy NO.
Service lifecycle management, and network and service configuration automation were the most common use cases for deploying NO.
Co-development with a preferred vendor partner was the most popular choice for building NO, with CSPs stating that they would like to retain key domain knowledge while leveraging the supplier's expertise.
Based on our ongoing research in the area of network automation and orchestration, it is evident that most CSPs are taking a stepwise approach to deploying CD-NO. As CSPs gradually introduce new NFV and SDN domains, the new and changed components must be integrated with the adjunct components, including the existing orchestration systems. Due to the diverse nature of CSPs' virtualisation environments, software components will require high levels of customisation to make virtualisation environments fit for purpose. To achieve the desired results in such a dynamic and complex networking environment, even as they support existing services, CSPs will require state-of-the-art systems integration (SI) capabilities with DevOps, and continuous integration and continuous deployment (CI/ CD) processes. Few CSPs possess all these capabilities and must rely on a suitable vendor partner (or partners) to bridge the skills gap. In addition to strong SI capabilities, vendor partners must demonstrate key characteristics such as deep networking expertise, strong commitment to open-source solutions, compliance with industry standards and the ability to provide multi-vendor support.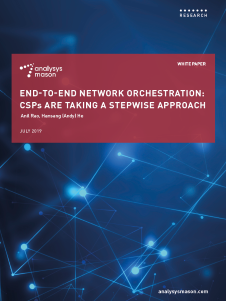 Download
This white paper gives the status of CSPs' network orchestrator implementations, selection preferences and implementation challenges.
Download your free copy
Download
Denotes mandatory fields