ML/AI-based automated assurance is critical for the success of 5G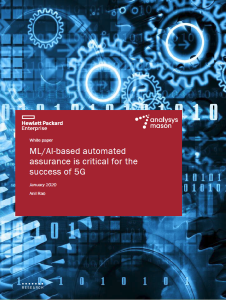 5G promises to deliver enhanced mobile broadband services, ultra-low latency and massive IoT communications services for both consumers and enterprises across many vertical industries. Players in the telecoms industry have coalesced around a set of key network design principles that include concepts such as network function virtualisation (NFV), software-defined networking (SDN), cloud-native computing, multi-access edge computing (MEC) and network slicing in order to enable the performance, latency and quality of service that is expected from 5G networks. These capabilities will make networks significantly more flexible and agile, and will enable service providers to rapidly launch new services, reduce capex through infrastructure standardisation and optimisation and deliver superior customer experiences. However, the dynamic nature of cloud-based infrastructure and network functions will introduce unprecedented levels of network and service complexities, and will therefore lead to an increased level of operational complexity and potentially, a dramatic rise in opex.
Analysys Mason's research shows that communications service providers' (CSPs') network opex has been increasing since 2012. Opex as a percentage of revenue grew from 11% in 2012 to 15% in 2017, but revenue declined by 13% during the same period. This is an unsustainable trend that will be exacerbated with the launch of 5G if CSPs stick with their current operational approaches. By using siloed IT and operations tools, network operations departments are forced to rely on manual processes that increase the risk of errors and misconfigurations, lead to longer issue resolution times and subsequently, increase troubleshooting costs.
More about this report
The emergence of advanced service assurance that uses big data and analytics technologies has alleviated these issues to some extent. Processing massive amounts of network data and applying analytics to post-processed data enables the generation of insights in a matter of seconds or minutes, thereby allowing operations departments to discover and proactively address issues before service impact and customer complaints. Even more-advanced features such as automatic pattern and anomaly detection are emerging, but these require the competence of domain experts and data scientists. CSPs would need to significantly increase the size of their specialist workforces in order to tackle the complexity of 5G networks and the expected increase in the number of potential failure scenarios, which would make the operational economics completely unsustainable. CSPs must reimagine their operations in the 5G era and embrace automated assurance to control opex.
Machine learning (ML) and artificial intelligence (AI) technologies empower assurance and enable CSPs to make the next leap towards autonomous operations. ML/AI technologies are key to achieving predictive operations, which will be critical for managing complexity in the 5G era and controlling opex. By applying ML/AI to assurance, CSPs will be able to perform a plethora of automations, including automated issue identification and root-cause analysis, automated anomaly detection and prediction, automated pattern discovery and automated creation of rules and policies. The auto-generated actionable next steps can be combined with NFV orchestration and SDN control systems to perform open- and closed-loop automation, thereby further reducing the operational costs. This new operations approach will reduce the reliance on manual operations and data scientists, and will allow CSPs to manage complexity in 5G, control opex and make the 5G business case feasible.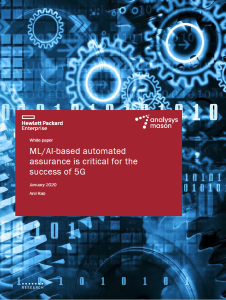 Download
This white paper shows how machine learning and artificial intelligence technologies empower assurance and enable CSPs to make the next leap towards autonomous operations.
Download your free copy
Download
Denotes mandatory fields