Study finds that imposing content-filtering technology on online platforms could be very difficult to implement and costly for European start-ups and scale-ups
18 June 2018
Press release
London, UK - Legislators in the EU have proposed the introduction of mandatory content filters for providers of online services, intended to better protect the rights of copyrights holders and to ensure they receive an equitable share of the value created by those rights. A survey by Analysys Mason, commissioned by Allied for Startups, highlights the significant implementation issues and potential costs for European start-ups and scale-ups.
David Abecassis, Partner at Analysys Mason, said: "Content filtering technology is a promising avenue to support agreements between rights holders for copyrighted content online and the platforms that make this content available to end users, but the technology is in its early stages of development and its implementation requires a large degree of co-ordination and investment by all parties. An obligation to implement this technology could be ineffective and, in some cases, very costly for European technology firms."
For online service providers (OSPs) to comply with the proposed legislation, the European Commission has referenced the imposition of content filters for automated detection of copyrighted content. In order to be effective, content filters require several building blocks to be in place:
content-identification technology must be available
a database of copyright-protected content is needed, against which each unique user-generated piece of content can be compared
rights holders and publishers must provide copyrighted material to these databases to allow matching of content.
However, not all these components are available, which would hinder compliance. For example, OSPs that allow their users to upload content such as 3D printing files or software code would not be able to comply with a content-filtering mandate as such technology does not exist.
Analysys Mason identifies that significant costs will be incurred where such technologies do exist. The replacement of a system of relying on take-down notices for copyright infringement with a content-filtering mandate would impose significant costs on affected companies. A medium-sized start-up could see its costs increase by 4% of revenues.
Analysys Mason highlights that proposals would inhibit investment, innovation and development. Given that start-ups are often still developing revenue models and are often not profitable initially, the imposition of such costs would be particularly burdensome for them. High costs of doing business and increased legal liability for copyright infringements would reduce innovation and investment in the sector.
The study was sponsored by Allied 4 Startups and Google and conducted independently by Analysys Mason in May 2018.
The full report is available to download here.
David McElroy
Marketing Manager
The impact of a content-filtering mandate on online service providers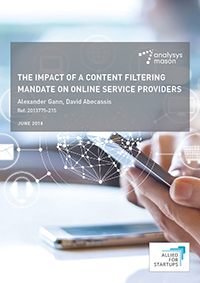 This study examines the potential impact of the legislative proposal and the associated costs and benefits.
Download your free copy