Balancing distinctiveness with partnerships to successfully transform telecoms and media business models
Not so long ago, there were not many things that telecoms operators, media companies and the Internet giants could agree on besides the fact that convergence was finally, mostly, a reality, and that on the whole it threatened traditional business models in the short term.
In recent months, perceptions appear to have shifted, and we are seeing more and more proactive initiatives by 'traditional' telecoms and media companies (operators, content providers, broadcasters and distributors such as pay-TV providers) to harness the benefits of the Internet and online platforms to their advantage by focusing on their unique assets. In most cases, these initiatives are developed in partnership with new media and Internet companies, with all parties eager to demonstrate that convergence is not just about "who gets the biggest share of a fixed pie", but also about expanding the market and creating opportunities for everyone.
Digitisation and convergence are driving media transformation by disrupting traditional drivers of value
As their businesses transform to embrace an "all-IP" model, operators, broadcasters, content providers and distributers must carefully assess how their drivers of value are changing and how to best leverage online platforms.
Scarcity is a powerful driver of business value: if you have control of something people want and that others cannot replicate, you can monetise it effectively and protect yourself against competitors and new entrants by making it a 'unique selling point'.
Identifying where scarcity lies used to be easy: incumbent operators had a regulated monopoly on telecoms infrastructure and services; free-to-air (FTA) broadcasters used one or more of the five or six channels available on analogue TV; large content providers had large dependent distribution networks (cinemas), long-term contracts with film stars people wanted to see in movies, and could secure long commitments from broadcasters and pay-TV operators to purchase the rights to their content.
Change has come progressively. Twenty years ago, telecoms markets were liberalised – but the cost of rolling out infrastructure meant that monopolies became oligopolies, so some scarcity remained. Ten years ago, digital terrestrial television (DTT) removed much of the capacity constraints for FTA TV – but the size and brand recognition of the former analogue broadcasters remains such that they command the lion's share of the audience. Then, about five years ago, a multitude of new content companies emerged thanks to the dramatically lower costs of production and distribution that online platforms started to offer.
More than ever, 'premium' content remains king: the major Hollywood studios are stronger than ever, independent producers (particularly in the UK) have been consolidating and are being acquired in high-profile deals with broadcasters (TF1/Newen in France) or studios (Endemol Shine/21st Century Fox), and a "golden age of television" is seeing ever more investment in new programmes and format, spurred by increased competition between distributors including Netflix and Amazon. This is illustrated by spending growth in excess of 9% on network TV programmes in the UK between 2013 and 2014.
Figure 1: UK spend on network TV programmes: 2013–14 [Source: Analysys Mason, adapted from Ofcom, 2015]1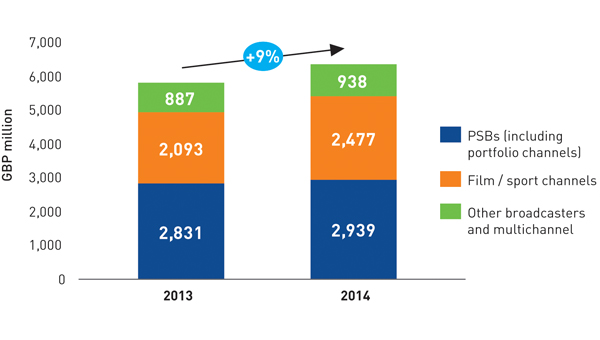 Pay-TV operators and on-demand online services are still entering into multi-billion dollar output deals with content producers in the hope of securing audiences, who can now access content from many different outlets seamlessly. Previously, these distribution outlets were scarce; now, increasingly it is the attention of the audience that is scarce: recent UK data from Ofcom shows that younger audiences (16–44 age group) watch much less live TV and spend more time online than the average person.2
More than ever, a focus on unique strategic strengths and distinctiveness remains essential, but partnerships across the value chain are key to succeed in a transformed landscape
Data on advertising spend for the UK, one of the most advanced VOD markets in the world, shows that this transformation has only just started. As shown in the chart below, online advertising has grown at the expense of newspaper ad spend, arguably because they both offer a similar sort of reach: relatively narrow (with much-reduced circulation and increasingly fragmented online audience), targeted and not real time. Conversely, TV's main proposition is for broad, simultaneous but not-so targeted audiences.
Figure 2: UK advertising spend on selected media [Source: AA / WARC]3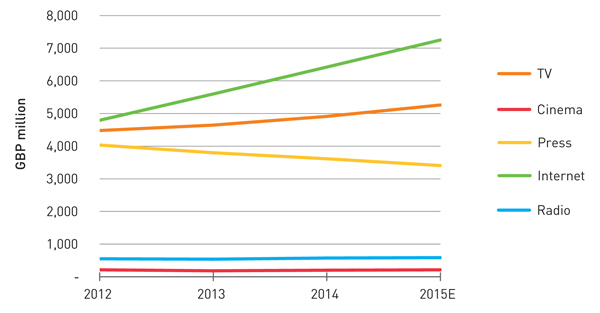 Despite the resilience of TV advertising revenue, traditional TV players are very aware of the risk that online channels pose to their medium-to-long term dominance on large live audiences. The Pepsi IPL, the world's most-watched cricket competition, reached over 100 million people in its first week in 2015, many through live online streams. In 2014, the Dota 2 International, an 'e-sport' competition naturally suited to online streaming, was watched live by over 20 million people, and in 2015 its prize money (USD18 million) exceeded Wimbledon's.
These changes, in terms of the types of content people consume and the way they do it, offer many opportunities for new entrants of course, but also for established companies which manage to respond by combining their traditional strengths with the benefits of online platforms – low distribution costs, large scale both national and international, and the large amount of time people spend online (on their mobile, at home, work or school).4
Such a response must balance the needs to protect areas of distinctive strengths and to partner across the value chain to access expertise and scale:
For content providers, it is a balance between reach (through multi-channel distribution including online) and monetising the value of exclusive and non-exclusive deals
For broadcasters, the trade-off is between maintaining brand awareness and monetising audiences (through widespread inclusion on platforms), and controlling the user experience and collecting valuable data on viewing preferences
For telecoms operators, the challenge is to focus on Internet access as a product whilst trying not to become a 'dumb pipe', by investing in innovation and quality of service.
In seeking to strike the right balance between these conflicting objectives, the common compass for telcos, content providers, broadcasters and distributors must be to keep a clear, up-to-date focus on what remains unique about their business model and how to monetise it.
---
Analysys Mason provides expert advice on strategy and policy issues at the intersection of telecoms, media and the Internet. Our work for Internet players is highlighted here, and our media expertise is summarised here.
---
1 Figure 2.29 in Ofcom, The Communications Market 2015 (August), http://stakeholders.ofcom.org.uk/market-data-research/market-data/communications-market-reports/cmr15/?a=0
2 Ibid., Figures 2.9, 2.15 and 2.44
3 Source: AA/WARC quarterly press releases, available at http://expenditurereport.warc.com/FreeTopLineData.aspx; press includes regional, national and magazines; digital activities of traditional media are excluded from Internet ad spend
4 Ofcom, op. cit.; TV viewing appears to remain ahead of Internet use, although the measurements are not fully consistent (e.g. if someone accesses the Internet whilst in front of the TV)