Building towards ASEAN's Fourth Industrial Revolution
ASEAN can play a world-leading role in the ongoing 'Fourth Industrial Revolution' (4th IR). The 4th IR builds on the ongoing digital revolution that has resulted in growing access to and use of the Internet and digital technology across consumers, companies and governments.
The addition of new and innovative technologies in artificial intelligence, robotics, the Internet of Things, 3D printing, and others will disrupt every economy, transforming business, governance and citizen's lives.1 To fully benefit from the 4th IR and prevent an increase in the digital divide, it is important to complete the 3rd IR, which involves ensuring that the digital economy is developed across countries, with individuals, companies and governments all having advanced Internet access and the capacities to use that access.
With the fifth largest combined economy in the world,2 favourable demographics, and fast economic growth, ASEAN countries could benefit greatly from an approach that combines sharing best practices, and furthering the integration of their digital markets. A regional digital market, supporting greater economic integration alongside digital transformation in multiple sectors of the economy, can increase the revenue opportunity for firms (access to a larger market), lower costs (economies of scale), and provide greater network effects for all. This paper proposes ten major policy initiatives, or building blocks, that can help ASEAN harness its scale to develop the digital economy towards the 4th IR.
The vision for ASEAN in 2025, as agreed in the ASEAN Economic Community Blueprint,3 is for an economically-integrated, business-friendly, tradefacilitative economic region, which encourages innovation. These desired outcomes will be accelerated if ASEAN member states integrate further into a single digital market, which in turn will help pave the way to the 4th IR. Through regional initiatives and harmonised policies at national level, ASEAN could become a digital economic powerhouse.
The digital economy relies on three main layers of enabling factors: infrastructure, data and digital services. Infrastructure is necessary to bring new users online and develop their capacity to make the most of digital technology; it is foundational, but it is not sufficient. Users are attracted by digital services – what they can do once they get online. Many of these digital services, in turn, rely on free and secure flows of data within and between countries. In this way, the three layers work together to create a truly digital economy. To support further growth in the digital economy, effective policies must be put in place at all three layers. While many steps have been taken by member states individually, cross-border co-ordination has so far been limited.
We have identified ten policy measures across the three layers that can enable an effective digital economy in ASEAN to create the building blocks for the 4th IR. These measures can help to deliver at least an additional USD125–205 billion (2.5–4.1%) in GDP growth by 2030, with a similar impact on employment; some analysts have suggested that these benefits could be much greater once all the possible transformation mechanisms offered by digital technology are fully integrated in the economy. These measures aim to achieve a high level of economic impact, address the biggest challenges toward regional co-ordination, and although they are ambitious, we believe they are realistically achievable.
Figure 1: Ten recommended policy measures [Source: Analysys Mason, 2019]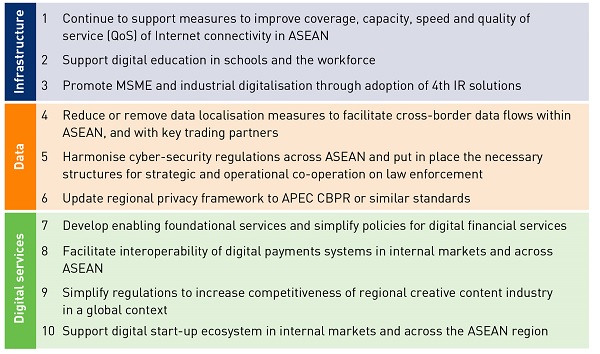 Whilst all of ASEAN is embracing digital technology at an accelerating pace, we recognise that there are significant differences in each country's progress towards the 4th IR. In the short term, through to 2021, the main priority should be to grow the ASEAN digital economy as a whole, while identifying best practice policies and deploying them where possible in every country. In the medium term to longer term, throughout the 2020s and looking forward to 2030, the next stage of growth will require greater integration, harmonisation and streamlining of digital markets, laws, regulation and policy across the region.
These short- and medium-term priorities reinforce each layer of the digital economy within each market, while simultaneously removing cross-border barriers across the region. The resulting regional market will allow innovators, entrepreneurs and regional companies to offer digital services freely across the region, with little barriers to delivering goods or providing e-commerce services across borders. This will bring the 2025 vision for the ASEAN digital economy within reach, to the benefit of all citizens, consumers and companies in the region.
The full report is available to download here.
Download infographic.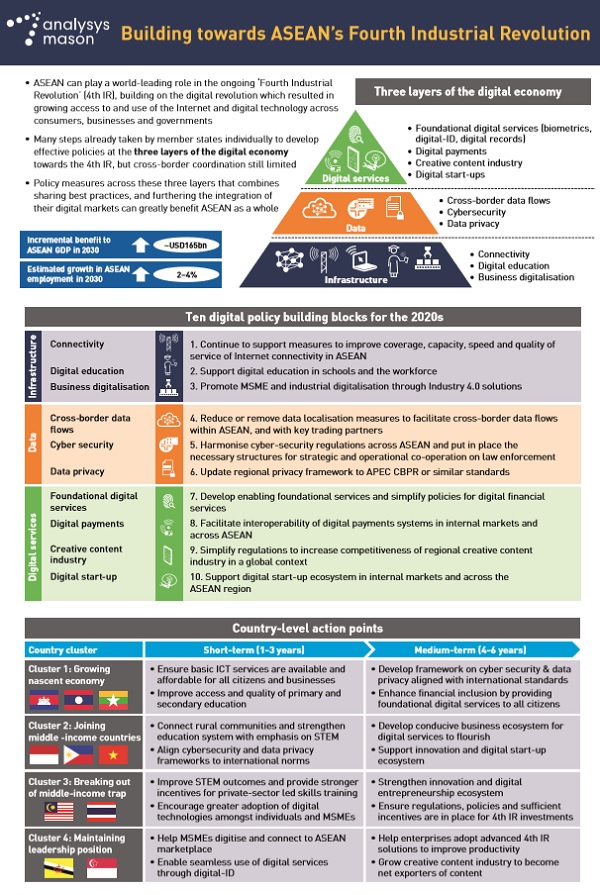 ---
1 "The Fourth Industrial Revolution, by Klaus Schwab", World Economic Forum; see: https://www.weforum.org/about/the-fourth-industrialrevolution-by-klaus-schwab
2 Source: IMF
3 "ASEAN Economic Community Blueprint 2025", The ASEAN Secretariat, https://www.asean.org/storage/2016/03/AECBP_2025r_FINAL.pdf
Explore how policy-making at regional level should support to unlock up to USD200 billion in annual GDP by 2030
Download Report (PDF)