A study on the potential impact of the Digital Single Market on the sports audiovisual ecosystem in Europe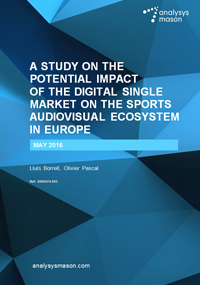 The Digital Single Market (DSM) is the EC's initiative to create a single market for digital content and services.
The EC aims to address a set of so-called 'key obstacles' to the functioning of the DSM, by implementing measures such as permitting portability of legally acquired content and wider online access to content by users across the EU.
The Sports Rights Owners Coalition (SROC) asked Analysys Mason to assess the potential impacts that the EC's initiatives involving sports audiovisual online content would have on consumers, sports rights owners and broadcasters/distributors.
This report identifies five key hypothetical, but plausible, scenarios for implementing the DSM political initiative that would lead to two distinct, broad outcomes: portability and cross-border access. The objective of the study was to compare the potential impact of each of the five scenarios, based on evidence, literature and responses provided by SROC members.
Our approach was to use theoretical or factual evidence to qualify and quantify the pros and cons of each scenario for the various stakeholders. Given the hypothetical nature of four of the five scenarios (because the EC has not yet clearly defined its approach to implementing cross-border access), we also comment on the uncertainties associated with each scenario.
DOWNLOAD FREE REPORT
This report looks at the EC's Digital Single Market agenda and the potential impact on consumers, sports rights owners and broadcasters/distributors.
Download your free copy