Data-driven innovation in Japan: supporting economic transformation
06 November 2014 | Consulting
Report | English PDF (80 pages) and Japanese PDF (83 pages)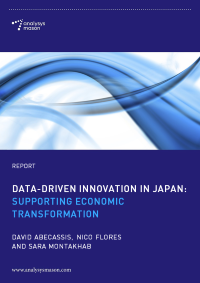 The types, number of sources and amount of data that is being generated in Japan are growing at an astonishing rate.
Wireless data traffic worldwide is expected to increase at a 44% annual rate over the next 5 years, growing from 13TB in 2013 to 80TB by 2018.
This wealth of data is allowing innovators around the world to develop services that deliver value to consumers and businesses.
In Japan, it has the potential to support the transformation that the government is pursuing in business and society, from supply-chain management, product traceability and productivity improvements, to better transport, remote medical monitoring and personalised assistance for the elderly.
About the report
A new report titled Data-driven innovation in Japan: supporting economic transformation, commissioned by Google and produced independently by Analysys Mason, shows that Japan stands to benefit substantially from data-driven innovation (DDI). Its economic impact is set to more than double over the next 6 years, reaching JPY15.1 trillion by 2020 – roughly equivalent to Japan's current domestic expenditure on information and communications technology.
In its study, Analysys Mason identified five main types of value-creating service that are enabled by DDI.
Service type
Examples
The new bazaar: Services that allow firms to
offer one-off products at one-off, personalised prices

Personalised insurance pricing
Price-naming websites

Services for here and now: Services that help
users with 'real-world' tasks in real time

Smart routing
Enhanced reality

Attentive services: Services that adapt in
anticipation of users' evolving needs

Medical telemonitoring
Customer retention systems

Services for people like me: Services that
target groups of consumers who share key characteristics

Online ad targeting
Recommendation engines

Intelligent planning: Services that allow businesses to shift
operations to changing market conditions

Supply-chain management
Public-health planning
DDI creates value by allowing firms to operate more efficiently, to improve their offerings, and/or to offer products and services that might not be possible without data. Businesses as well as consumers throughout the economy benefit as a result.
Drawing on extensive research into international trends, as well as primary research conducted in Japan, Analysys Mason has quantified this impact for the Japanese economy. Our research shows that DDI already underpins more than JPY7.2 trillion in economic value in Japan, which is roughly equivalent to Japan's total income from food manufacturing.
To download the report, click on the appropriate link in the download module on the right. Both English and Japanese versions are available.
Figure 1: The economic value of data-driven innovation [Source: Analysys Mason, 2014]