Westminster eForum: Next steps for UK mobile - market dynamics, coverage, spectrum and 5G development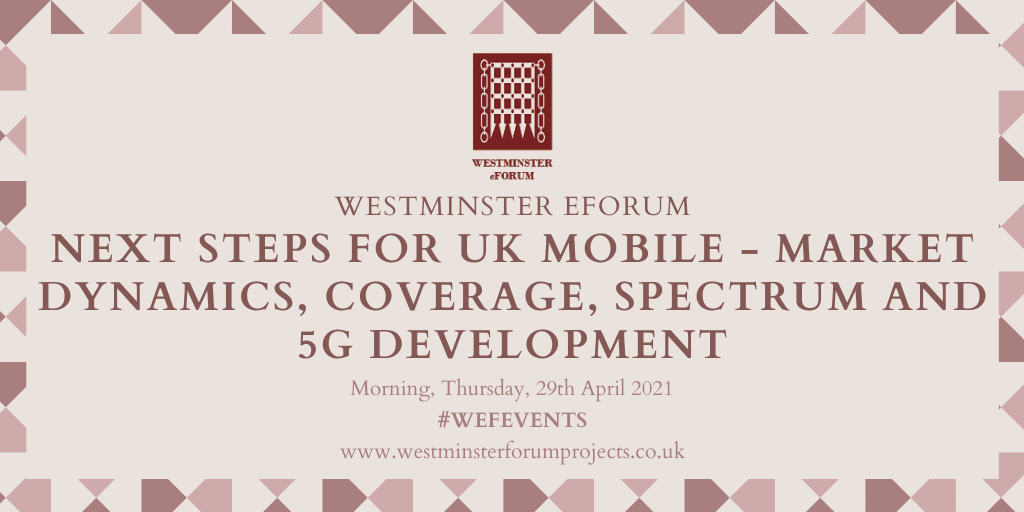 Janette Stewart, Partner, Consulting, Analysys Mason, will be joining the panel discussion 'Supporting innovation in services and technology - tackling the key challenges for rolling out 5G across the UK, encouraging investment, and priorities for spectrum allocation' as part of the Westminster eForum policy conference 'Next steps for UK mobile - market dynamics, coverage, spectrum and 5G development', being held online, 29 April 2021.
About the event
This Westminster eForum policy conference will examine the next steps for the development of the UK mobile market and 5G services.
Taking place following commencement of the spectrum auction for the 700MHz and 3.6-3.8GHz bands, areas for discussion include:
competition and latest market developments, including moves to diversify supply chains
consumer habits and changing priorities, particularly in the context of the pandemic
5G rollout, spectrum allocation, and the evolving regulatory landscape
innovation, infrastructure and investment
coverage in rural and remote areas
next steps for policy and regulation
The conference will be an opportunity for stakeholders to consider the issues alongside key policy officials who are due to attend from DCMS; Ofcom; HMRC; the UK Space Agency; BEIS; Defra; the Department for the Economy, NI; DIT; the Government Legal Department; the Home Office; the National Crime Agency; the NCSC; The Scottish Government; and the Welsh Government.
For more information and to register for this event, visit the website here.
When
Thursday 29 April 2021 9:00AM - 1:00PM BST