Why are B2B start-ups hot again?
A comparison of B2B start-up funding statistics for 2018 and 2019 (so far) paint an interesting picture.
133: Number of funding rounds in 2019 so far
1487: Million dollars invested in Indian B2B start-ups in 2019 so far
531: Number of funding rounds in 2018
2837: Million dollars invested in Indian B2B start-ups in 2018
If the trend continues, the cash raised by B2B start-ups in India in 2019 will easily exceed that of 2018 in fewer funding rounds. It means fewer companies are raising more capital than before (see Figure 1).
Figure 1: Capital investments in B2B start-ups in India [Source: Tracxn Technologies and Analysys Mason, 2019]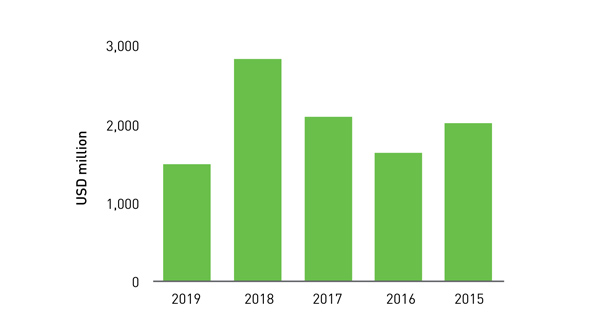 If everything remains equal, 2019 should be the best year, funding wise, for B2B tech companies in India. B2B is in vogue again. So much so that Tiger Global Management, the marquee US-based private equity fund, has decided that its new focus in India will be in B2B start-ups.
There are layers here. Some are easy to understand – for example, the profit margins in these companies are higher than in B2C start-ups. Some layers are more nuanced because they have happened over a period of time and are a result of changes to the regulations (see Figure 2).
Figure 2: Factors that contribute to the rise in investments in B2B start-ups in India [Source: Analysys Mason, 2019]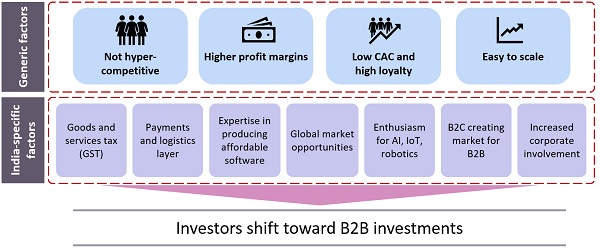 Let us look at why investment companies are interested in the B2B start-up space.
Not hyper-competitive. The B2B market is market is not as competitive as the B2C market. Some B2B markets, such as logistics, are massive and highly disorganised, and allow for the opportunity to coexist. Also, few B2B companies are venture-backed. The space is occupied by traditional businesses, which have been using non-tech-based solutions for years. Taking on these small, one- or two-people operations is not difficult for a well-funded company. This is different from the consumer-facing market, which is crowded and has bigger audiences.
High profit margins. The profit margins for B2B businesses are usually high because the prices are more or less set by the market. This is relevant whether these businesses are ecommerce or software-as-a-service (SaaS) companies in India or worldwide. Few companies want to take on the status quo. All tech-enabled B2B start-ups do is clear redundancies, which sometimes enables them to decrease their own costs while maximising profits. It also means that with scale the profits increase, and companies quickly reach maturity. This ensures smoother exits for venture investors.
Low customer acquisition costs (CACs) and customer loyalty. This point is closely linked to the first two points in this list. The cost of customer acquisition is low in this market because it is not crowded. The cost of B2B marketing is much lower than that for TV sports or bidding for Google adwords. As most vertical companies offer similar services, customers have little reason to switch to the competitors unless the quality of the service is markedly better. This holds true for a range of companies from those involved in logistics, such as Delhivery, to SaaS companies, such as CleverTap. Customers just stay loyal.
Easy to scale: Once a product market fit is found, reaching out to new customers is relatively easy because there are still a lot of companies, which need a tech layer to eliminate redundancies. Most B2B markets are close-knit communities and a good reputation goes a long way in building a customer base. Most companies also have similar requirements and building layers on an existing customer base is easier than building new services for new customers. Let's take SaaS companies as an example. If a tech start-up has sold payroll software to a small or medium-sized business (SMB), it is easy to ask the company to upgrade by adding a sales-based performance plug-in as well. This will give the SaaS company two layers of implementations in the same company and all it needs to do is show the same proof of concept to other SMBs.
These factors are generic and constant across the world and have been stable for decades. However, the landscape has subtly changed over the years, which has led to an inflection point.
Goods and services tax (GST): The unfurling of GST has been one of the biggest drivers of B2B companies over the years. GST has brought a layer of SMBs into the market, which need to upgrade to digital products that relate to a range of needs such as payments and logistics. Most of these SMBs were barely using digital solutions, GST forced their hand. Additionally, SMBs in India were usually confined to doing business in their own state. Shipping to other states was expensive and time-consuming. GST simplified this and SMBs are more likely to use Delhivery and Rivigo. It also ties into SaaS companies discovering a whole new market that never existed before.
Establishment of payments and logistics layer: A lot of groundwork started when the various payments companies started to establish themselves. They went from lending to small payment gateways to virtual stores. Each of these companies made taking on debt easier. In principal, companies got access to more working capital, which led to more-aggressive expansion and revenue targets. All of them tied into the fact that digital payments were being accepted, which eliminated cash and this tied into GST, which started to build up a perfect storm. The likes of Delhivery and E-com express, which had been primarily catering to e-commerce companies, saw a new brand of customers come on board and used them to expand their services as well. The enthusiasm for B2B has built in the last 4 years and is reaching a peak in 2019.
Expertise in producing affordable software: One of the biggest surprises has been the small boutique SaaS firms that have cropped up, which have been running with little or no venture investment. One of the primary reasons for this has been India's ability to produce software cheaply. In addition, the talent pool is well stocked with people who have been part of this ecosystem for years and have the knowledge and contacts to operate in this industry.
Global market opportunities: Most SaaS companies in India have found consumers in the USA. This, according to experts is a recent phenomenon, for one primary reason. Several US-based SMBs have started to digitalise their businesses. India and other South Asian countries are able to export technology at reasonable cost. Experts also suggest that a change to US immigration policy has meant that US-based companies have not been able to hire as freely as they could and are therefore awarding larger projects to Indian companies.
Enthusiasm for artificial intelligence (AI), the internet of things (IOT) and robotics: More than 75% of Indian B2B start-ups work in AI, IoT or robotics. It may appear as if a bubble is forming in the Europe and the USA, and AI may be too expensive to use in traditional businesses in India. However, if plotted on a graph, the capital costs for robotics and manpower costs are going to start to come closer as time goes by and investment in these companies are early stage bets, which may pay off in a big way when enough time passes.
B2C creating a market for B2B: Tremendous growth in B2C start-ups has created a huge market for B2B solutions and services, like logistics, HR support, advertising, etc. The recent claim of three B2B start-ups (Freshworks, Delhivery and Udaan) to unicorn status (valuation of more than USD1 billion) is supported by business given to such start-ups by numerous, venture-backed B2C start-ups.
Increased corporate involvement: Indian corporations have slowly started seeing potential in homegrown start-ups. This trust is evident through both a higher number of corporate accelerators and increased business with Indian start-ups. There were only two corporate accelerators in India in 2014, but today the number is above 50, as big companies are looking to invest in start-ups that can offer solutions for problems they are struggling with. Also, Indian corporations are entering into business transactions with Indian start-ups because they provide cheaper and quicker solutions than their foreign counterparts. HUL's business with Locus and Grey-orange is just one of many examples.
Investment in B2B is peaking in India in 2019 and all of the above factors have contributed to this. Tiger Global's announcement has brought the sector into focus again and it is probably one of India's strongest tech layers yet. B2B is always categorised as the next wave after B2C matures. In India, it may go the other way.