Interactive entertainment: capturing value at the convergence of telecoms, media and technology
After two decades of sustained growth, the interactive entertainment industry is now bigger than movies
Interactive entertainment is a complex ecosystem or value chain that spans the conception, development, distribution, sale and now increasingly hosting and operation of what used to be called video games. It is an inherently multiplatform industry: development, distribution and hosting are big drivers of cloud computing demand, servicing players who use PCs, consoles, smartphones and tablets, more and more fluidly. With more than ~3 billion players worldwide,1 gaming's player base has been extending beyond children and young adults to reach a diverse demographic (as seen in Figure 1).
Figure 1: Breakdown of gamers in the USA and EU5 by age range2 [Source: Analysys Mason Research Consumer Survey 20223]

As a result of this expanding user base, gaming revenues are forecast to reach USD184 billion in 20224, up from USD149 billion in 2019 (7.4% average annual growth). For comparison, the global movie production and distribution industry generated USD78 billion in revenue in 20225. The gaming industry's growth was undoubtedly accelerated by the Covid-19 pandemic and the demand for in-home entertainment during lockdowns. Growth has since decelerated, but recently announced transactions in the gaming space shows how dynamic the industry remains. Recent transactions include Microsoft's proposed acquisition of Activision Blizzard for USD68.7 billion and Take-Two Interactive's acquisition of Zynga for US12.7 billion in 2022. This is comparable to Disney's acquisition of 21st Century Fox, which was completed in 2019 for USD71.3 billion.
Interactive entertainment and the TMT ecosystem are coupled in a virtuous circle of demand for technology, content and connectivity
There is a virtuous circle at play between gaming, technology and digital infrastructure. Devices and connectivity are key to the gaming experience, driving new types of games and business models. At the same time, Analysys Mason Research's Consumer Survey shows that gamers are early adopters of new technologies and better connectivity. Many in the TMT sector understand this well and are working to harness gamers' demand for better technology, content and connectivity.
The complex value chain of the gaming industry spans all three pillars of the TMT ecosystem (see Figure 2):
Technology: the software (game engines, operating systems, cloud platforms, and in future AI capabilities such as ChatGPT) and hardware (CPUs, GPUs, SSDs, controllers and sensors, displays and other input/output peripherals, which include VR headsets and haptics) required to run games are in continuous evolution – innovation that fuels creativity in game development and vice versa (and beyond, in hardware supporting HPC and AI, where the gaming community largely funded the GPU industry for many years before the rise and fall of crypto mining).
Media: interactive entertainment is increasingly transmedia (e.g. Esports, live streams and in general content creation), and gaming itself is becoming more and more the subject of media content, as illustrated by the recent box office success of the Super Mario Bros. movie.
Telecommunications: networks are now at the core of the interactive entertainment industry, providing the infrastructure for development, distribution and running/hosting of games (including online gaming).
Figure 2: High-level overview of the interactive entertainment industry from the TMT ecosystem perspective [Source: Analysys Mason, 2023]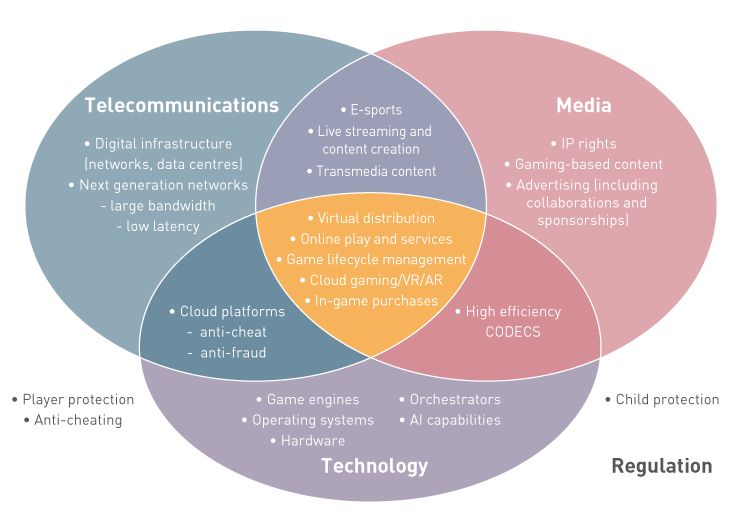 Digital infrastructure, including networks and cloud platforms, is becoming increasingly central to the gaming industrial ecosystem. Once purely offline (people would buy a console and physical games from stores for at-home play), gaming is now highly connected:
Virtual distribution is now the norm: game distribution has become increasingly rich and sophisticated, with the largest distribution channels being online libraries such as Steam, Epic Games Store, Xbox Live and PlayStation Store. With AAA games6 titles reaching typical sizes in range of 25–60GB in 20227 and even up to 100GB (which is only going to increase as 4K games become commonplace), demand on networks can be significant: downloading a 50GB game can saturate a 30Mbit/s connection for almost 4 hours (as a means of comparison streaming on Netflix in 4K consumes up to 7GB per hour of data in a web browser8) – moreover, the increased ease of access to vast libraries and limited local storage space on devices prompts users to download and unload games, for just a trial or to install an OS update, increasing network loads.
Online play and services is either central to games or an expected add-on for many players: online play services include games where players interact with each other in real time, for which very rapid responsiveness of the system is often crucial to guarantee an enjoyable gaming experience (with processes often managed in the cloud through orchestration software) – network, computing and storage (e.g. for saving gameplay progress) requirements can be significant, especially for those games that tend to have hundreds or even thousands of concurrent players on the same server. Real-time events in games and metaverse-type experiences, such as Fortnite concerts, also fall under this category, and may result in infrastructure overload should it not be adequately dimensioned.
In addition, emerging use cases, both in the B2B and B2C sectors, should amplify the cross-reliance of digital infrastructure and interactive content:
Game lifecycle management includes the development and production of a game, which encompasses a variety of CPU- and GPU-intensive workloads, such as compiling, rendering or testing. Cloud platforms offer a convenient and scalable way to address evolving computing requirements across the lifecycle of games. Post-sale game management includes updates and support, along with measures to prevent cheating and fraud (which are increasingly cloud-based) and the usage of cloud AI to produce NPCs9 which may be adopted across permanent gaming universes (with one of the earliest examples being Microsoft Forza's Drivatar,10 where virtual AI players are trained based on data from real ones). All these processes are most often managed through orchestrators.
Cloud gaming offloads the computing (including rendering) of games to the cloud, allowing users to play technically demanding games on a low-spec machine, with the paramount requirement being a stable, high-bandwidth, low-latency connection (as well as very responsive cloud computing infrastructure).
Gaming is also one of the core early use cases for virtual and augmented reality (AR/VR). The computing needed for these experiences may be offloaded to the cloud. One example of a cloud gaming player that is currently offering a cloud VR product is Shadow (Shadow VR).11
In-game purchases, made with real currency to acquire in-game perks or other type of virtual benefit, require transaction security and assurance, and must comply with regulatory requirements associated with the protection of children and, in some countries, gambling regulations.
This last example shows the growing importance of regulation, beyond the well-established age guidance system that organisations like PEGI handle. Hot regulatory topics currently include competition law, wholesale pricing of games and vertical contracts, player protection, anti-cheating, micro-transactions, child protection and gambling addiction (e.g. issues surrounding 'loot boxes') among others, and are just examples of such challenges.
Interactive entertainment is evolving fast, with the potential to generate high-value opportunities at the crossroads of content and digital infrastructure
The gaming sector's growth and significant impact cannot be overlooked, especially in light of the expected expansion and widening reach. Two recent examples of transmedia content rooted in gaming are informative: Netflix's hit series 'The Witcher' was originally a book series and then a game, and HBO's 'The Last of Us' was based on a successful game. Both are testament to how the world of gaming has been extending its impact beyond the original medium, and proving a lucrative source of innovation and original ideas for TV and movie concepts.
The industry as a whole is large and chiefly anchored on digital infrastructure, with intensifying dependence on these systems stemming from ongoing technological improvements. Therefore, TMT stakeholders and investors hunting for areas with the potential to generate high-value opportunities should look at:
Increasing their awareness of the technology and gaming value chain in order to anticipate key trends that shape the industry – as in most maturing markets, a degree of consolidation is expected in the space, especially in relation to the technology stack and IP creation.
Developing an understanding of the needs of the industry for digital infrastructure, from networks to data centres and their implications for the player base (e.g. bandwidth, latency to specific servers, potential gaming traffic prioritisation).
Grasping the key regulatory issues the industry faces, given their complexity and impact on the player base, in light of the high level of interactivity both with the product (game) and between players themselves.
Undoubtedly, gaming offers remarkable prospects for value creation at the intersection of content and digital infrastructure. At Analysys Mason, we have spent the last 35 years working with clients across the TMT space tackling some of the sector's most challenging issues, from digital infrastructure to regulation, and we very much look forward to hearing your thoughts on this burgeoning space and its longer term implications. For further information please contact Sylvain Loizeau and Andrea Betteto.
---
1 Source: NewZoo

2 All age brackets have been included in data illustrated

4 Source: NewZoo

5 Source: IBISWorld

6 AAA games are high-budget, high-profile games mostly developed by major publishers, and are the equivalent of blockbuster movies in this industry

7 Source: GamesRadar

8 Source: Netflix

9 Non-player characters i.e. characters in a game which are not under the player's control

10 Source: Forza

11 Now is the time to invest in the new cloud-based AR/VR market