Investment in networks, facilities and equipment by content and application providers
30 September 2014 | Consulting
Report | PDF (40 pages)
An update of this report can be found here.

Our study shows that Internet content and application providers invest more than USD30 billion each year in the fabric of the Internet.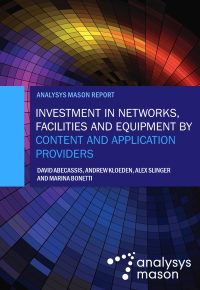 Analysys Mason's new study shows that Internet content and application providers invest more than USD30 billion per year in physical networks, facilities and equipment. This investment is necessary to deliver the content that end users want. It benefits the Internet as a whole, end users and the other players that invest in the physical fabric of the Internet.
Content and application providers highlighted by the study include 'pure' online companies, such as Facebook, Google and Spotify, as well as the online businesses of multi-platform players, such as the BBC and the New York Times.
Click on the cover image above or the download link on the right to download this report.
The report findings
The report highlights that content and application providers are now major investors in Internet infrastructure, even though contents and applications are their core business. They are investing in physical network, facilities and equipment – from data centres to submarine cables and the multitude of servers that store, process and serve content to end users. This investment is becoming increasingly necessary to deliver content to a growing number of end users at the quality demanded.
Investment relates to three major activities.
Hosting of content and data: This includes storage devices and servers, which reside in large data centres located throughout the world.
Transport: This includes the high-capacity fibre optic cables (terrestrial or submarine) that are used to carry content from the hosting location to the edge of the Internet access provider network.
Delivery: This includes the equipment necessary to hand over the content to the Internet access provider, which then delivers it across the 'middle' and 'last mile' to the end user. This includes in particular equipment used in Internet exchanges and content delivery networks.
The study reveals that Europe is the largest destination for this investment. It is a hub for Internet traffic, where many international cables meet, hosts the world's largest IXPs and has a large population of Internet users. As a result, Europe is attracting investment from US companies – particularly in data centre facilities – as well as from local content and application providers, such as the BBC and Spotify.
According to the report's co-author, David Abecassis, Principal at Analysys Mason, the level of investment is significant –particularly as it is in addition to the investment that content and application providers make in their core businesses, which may be software, digital content or e-commerce.
Infographic