CCT 2020 – The Cloud, Content and Telecoms Summit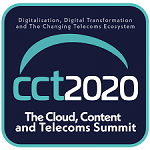 Caroline Chappell, Research Director at Analysys Mason, will be moderating the sessions 'Infrastructure scaling and meeting future service demand – key challenges and exploring alternative models and solutions' and 'Platform business models: moving away from a linear chain to a platform business model to meet new service demands' at CCT 2020, being held in Dublin, 13-14 May 2020.
About the event
CCT 2020 – The Cloud, Content and Telecoms Summit provides a much-needed event for the emerging telco ecosystem and enables discussion, dialogue and communication at an executive level on many of the industry challenges relating to global connectivity and infrastructure and the new services that need to be delivered.
Bringing together the leading executives from cloud and web-scale players, telecom carriers and service providers, interconnect and data centre players and content and OTT providers CCT 2020 provides a unique opportunity and platform to learn and discuss with peers, define priorities, advance agendas and shape the future industry.
For more information about this event, go to the CCT 2020 website.
When
Wednesday 13 - Thursday 14 May 2020 9:30AM - 4:30PM (BST)