Collaborations between MNOs and public cloud providers for IoT: framework and analysis
All mobile network operators (MNOs) with IoT business units are building partnerships with public cloud providers (PCPs), but the rationale for these partnerships and the value that they bring to MNOs' IoT businesses will depend on the individual MNO's IoT strategy. This report provides a framework for evaluating the types of MNO agreements with PCPs and the benefits and risks to MNOs' IoT businesses.
For more information, see the article associated with this report: The case for IoT partnerships between operators and public cloud providers is strong for some services.
Key questions answered in this report
Which IoT service areas are subject to collaboration and competition between MNOs and PCPs?
What are the benefits to MNOs of collaborating with PCPs for IoT and what threats do PCPs pose?
How are MNOs working with PCPs to build/deliver new IoT services?
Benefits for MNOs of partnering with PCPs for IoT and associated risks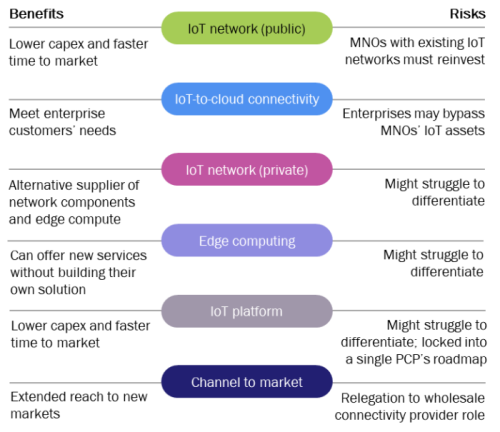 Source: Analysys Mason, 2021
USD4999
Contact us
Denotes mandatory fields
Log in
Log in to check if this content is included in your content subscription.