Comcast's offer to buy Sky is part of a wider move by US telecoms and media giants to diversify as the North American market slows
28 February 2018
Press release
Martin Scott, Principal Analyst at Analysys Mason and Head of Video Strategies, looks at the reasons behind Comcast's offer to buy Sky.

The US conglomerate Comcast has announced a cash offer to buy the European broadcasting group Sky for GBP22.1 billion (USD31 billion), exceeding a previous bid from 21st Century Fox by GBP3.6 billion (USD5 billion).
Comcast claims to be 'confident in receiving all necessary regulatory approvals in a timely manner'.


Comcast's offer is part of a wider move by US telecoms and media giants to diversify as the North American market slows
Comcast needs a new source of growth as the North American pay-TV market has already peaked – Around 65% of Comcast's 4Q 2017 earnings were tied to media, either through Xfinity's video revenue or NBCUniversal: Comcast is highly exposed to the US pay-TV market. Pay-TV retail revenue hit USD117.8 billion in North America in 2017, up USD1.0 billion year-on-year, but faces a 10% decline over the next 5 years. Cord cutting in North America has been disastrous for growth prospects in the region – pay-TV connections per household will fall from 77% in 2017 to 70% in 2022. The Western European market remains buoyant, and cord cutting has had a much lower impact. This makes investment in Europe appealing for the major US players.

Figure: Pay-TV connections as a percentage of households, North America, Western Europe and worldwide, 2013–2022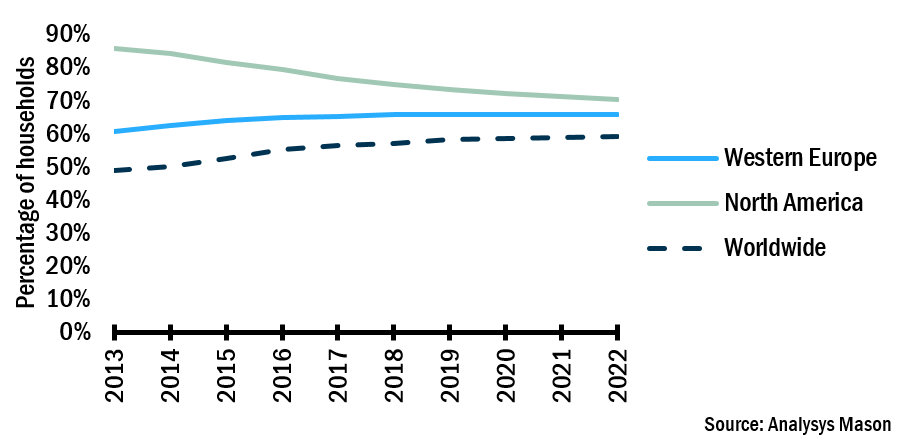 Source: Analysys Mason's report Worldwide pay-TV services: trends and forecasts 2017–2022


US telecoms and media players are looking to other world regions and other sectors to diversify

AT&T has been extremely active in M&A in an attempt to scale and diversify – moving into Mexico in 2015 with the acquisition of Nextel, strengthening TV with DIRECTV in the same year and making a bid for Time Warner in late 2016.
Verizon has diversified more widely online, acquiring AOL, Yahoo! and fleet management companies FleetMatics and Telogis.
21st Century Fox has been embroiled in a messy attempt to acquire Sky for the last 14 months, and is itself in the process of being acquired by the Walt Disney Company, subject to regulatory approval.

What Sky would bring to Comcast
That all-crucial diversification of revenue. Comcast's revenue outside the USA would grow from 9% of revenue to 25% (based on 2017 earnings).
Sky has an established capability, and strong expertise in, segmenting the market and leveraging its pay-TV assets for the OTT market. Comcast could not only develop its own OTT presence in the USA further, it would be able to add to Sky's portfolio of NOW TV subscription offerings in Western Europe in a short time frame. NOW TV offers subscriptions to packages of Sky film, entertainment and sports channels on a no-subscription basis across a number of European countries, and NBCUniversal content such as SyFy could be seamlessly woven into such propositions as extra subscription options. This would give Comcast an immediate platform from which to further monetise its content in Europe.
Sky would bring Comcast tactical stakes in new technologies and services worldwide. Sky holds stakes in emerging market OTT player iflix as well as platform and device provider Roku (which has an Xfinity app in beta). These would provide convenient and immediate routes to international distribution for NBCUniversal's content.
Sky has a synergy of spirit with Comcast. Sky's move to launch its high-end Sky Q service as a 'dishless' OTT service in Europe mirrors Comcasts work to evolve Xfinity TV and X1. BloombergMarkets reported that Comcast CEO Brian Roberts said of Sky's retail proposition "We were really terribly impressed. Seeing it again and listening to the passion of the sales, and looking at the product, and seeing the success in their earnings -- all those things combined to reinforce what a number of us have known for years, this is a jewel."

What Comcast would bring to Sky: Comcast would be able to finance Sky's wider push in the rest of Europe … and keep Sky in telecoms
Comcast can help fund Sky's European expansion. The implementation of the European Commission's Digital Single Market strategy in 2018 will potentially pave the way for Sky to offer both its OTT NOW TV service and its full Sky Q service to a much larger target audience. Sky has been canny in its positioning of NOW TV relative to its full Sky service to-date, and it is likely that this service will serve as a beach-head in Europe, as indicated by earlier plans to launch in Spain.
NBCUniversal's content assets would bring down Sky's cost of content and widen their portfolio. Comcast highlighted 'content production and technology' as a focus point for the acquisition – Comcast has a major asset library.
It would strengthen Sky's position in telecoms. Sky recently announced a timeframe for the launch of its Sky Q service 'without a dish' – the operator is poised to become a full OTT player. Over a 10-year period, we think that this move may turn out to be a key staging-post in the journey of Sky towards being a pure content service provider, and a direct competitor to IP-based video providers, whose retail offerings involve, increasingly, a mix of scheduled and on-demand material. One potential future for Sky would be to become a pure content service provider at a transnational, web-scale level, focusing on their defensible assets (their content and video assets). However, Comcast's commitment to telecoms, and its own aspirations for mobile in the USA, which in some ways mirror Sky's mobile efforts in the UK, would increase the likelihood of Sky maintaining or strengthening its telecoms positioning in the UK. Comcast has also had success in the smart home market in the USA – something that it might port to Sky's European operations.