SDN in the age of multi-cloud connectivity: the case for a converged programmable network
This report provides insights for operators that are considering adopting new products and/or managed services to enable them to address the enterprise need for end-to-end multi-cloud connectivity.
Key questions answered in this report
What are the requirements for multi-cloud connectivity and how do these differ from the requirements for traditional connectivity?
What are the implications of adopting an SDN approach in the data-centre, and wide-area network (WAN) overlay and underlay domains?
How will cloud-native networking and a power shift to applications developers affect the development of multi-cloud connectivity solutions?
Which vendors are taking the lead in adopting this new converged, programmable approach to the multi-cloud network?
Today's diverse SDN-based products do not address enterprise app-to-app connectivity needs across clouds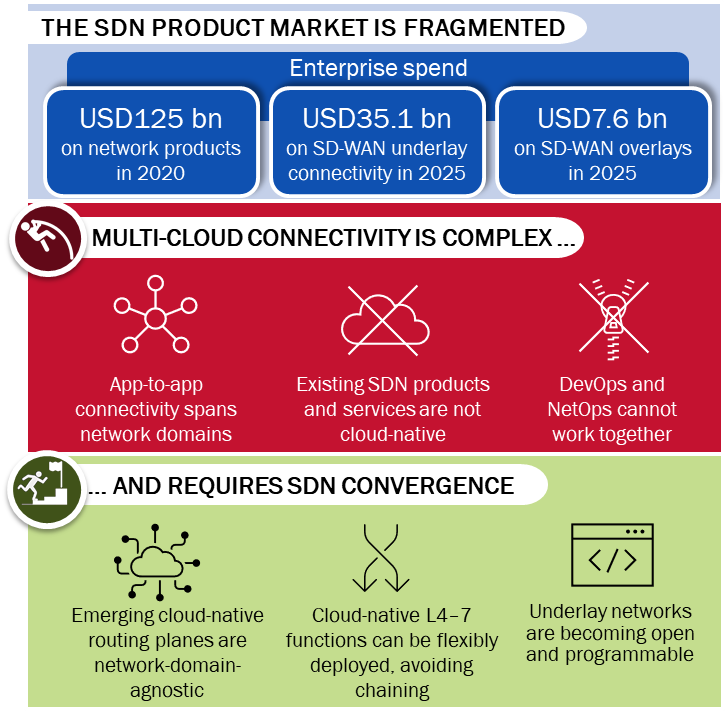 Source: Analysys Mason
For more information about this report, see the associated article Cloud networking promises to resolve multi-cloud connectivity issues but will disrupt the industry.
USD4999
Contact us
Denotes mandatory fields
Log in
Log in to check if this content is included in your content subscription.