IoT security: opportunities for communications service providers
"CSP investment activity in IoT security must match the size of the CSP's ambition in IoT (and not the size of the CSP)."

As awareness of IoT security breaches grows, operators with ambitions in IoT will need to highlight network security as a differentiator and match their ambition in IoT by providing security for the components of the value chain that they address. This report provides an overview of the current status and trends in the IoT security market for communications service providers (CSPs). It analyses the IoT security opportunities for CSPs, as well as the related business models and approaches to building IoT security propositions.
This report will help CSPs and telecoms vendors to answer the following questions.
How are CSPs developing IoT security now?
In what ways will it develop in the future?
What are the challenges that CSPs face in the IoT security market?
Does 'end-to-end' security exist? If so, who should be responsible for it?
What are the revenue opportunities for CSPs in IoT security?
What role can CSPs play in the IoT security field?
What is the business model and where should CSPs focus their investment?
---
This report includes case studies for the following CSPs.
Telenor Connexion
Vodafone
---
The operator's role in IoT security must match the operator's role in the IoT value chain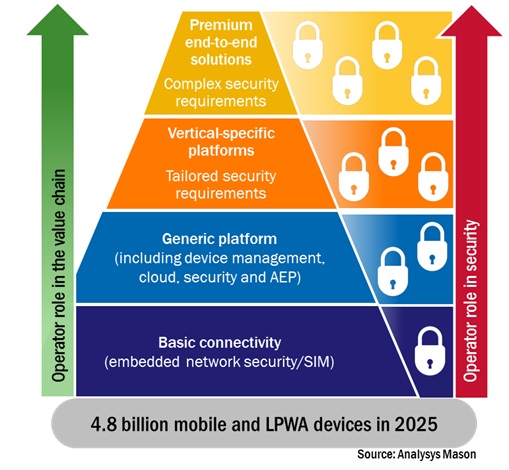 ---
Sample pages
Click on the sample pages or download the PDF (780KB).
USD 4999
Contact us
Denotes mandatory fields
Log in
Log in to check if this content is included in your content subscription.