API-based networking and multi-cloud NaaS: CSPs need to rethink the transport network
Communications service providers (CSPs) have ambitious plans to become network-as-a-service (NaaS) providers and deliver advanced connectivity services to support B2B and industrial use cases. These include quality on-demand and network slicing services with network APIs and multi-cloud connectivity services for distributed applications with service level agreement (SLA) and sovereignty compliance guarantees. These new services will require end-to-end programmable networks that automatically adapt to different applications and use cases and match their bandwidth, latency, resiliency and security capabilities to the needs of those applications. Currently, network connectivity is provisioned for various domains (data centre, private 5G, WAN, public cloud) and end points separately with manual inputs and complex service chaining processes. However, API-driven networking will require programmatic interactions between the applications and the network, executed in a near real-time, more autonomous manner to be successful. This requires a seamlessly integrated and automated networking fabric across any connectivity domain and operator network that an application's traffic traverses. However, such a fabric is not possible with the current networking paradigm in CSP networks since these networks are built as domain-specific siloes that use a diverse set of fragmented control planes, automation tools, data models and interfaces.
CSPs need a radical shift from end-point based connectivity pipes to application-based network platforms that are based on an end-to-end, cloud-based control plane and automation framework that unifies their fragmented network domains with software-based routing and other L3–7 networking services and common automation tools. We call this vision the Programmable Network Platform (Figure 1), which will stitch together CSP core, transport and access networks. It will then abstract and expose them as a single, cloud-native networking fabric to developers.
Figure 1: Overview of programmable network platforms and NaaS architecture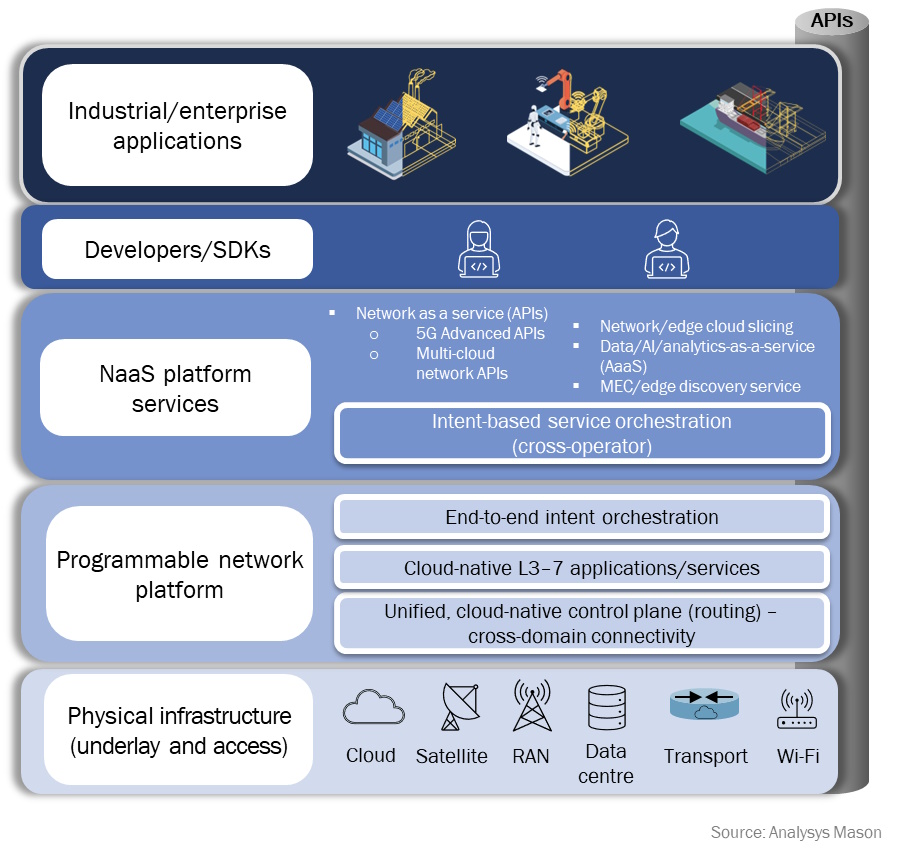 ---
Several key ideas for a programmable network platform have already been applied to 5G mobile core networks. The 5G network has been conceived as a set of disaggregated, cloud-native software components whose capabilities can be exposed to developers and ecosystem partners. Virtualised and Open RAN architectures are also following this trend. However, CSP transport networks are not built in this way and still rely on aging networking and automation technologies. IP/optical network control planes and data planes remain tightly integrated in specific purpose appliances and limited commonality has been achieved in SDN, programmability and automation approaches of vendor solutions. Industry initiatives such as TIP OOPT are making strides towards incorporating software-isation and disaggregation in IP/optical networks but these do not yet take full advantage of cloud-native software and networking technologies and their associated automation approaches and tools.
Transport networks are evolving with SDN and disaggregation but are still largely disconnected from the cloud-native paradigm
Analysys Mason attended two industry events in April, namely the MPLS SD & AI Net World 2023 event in Paris and the KubeCon + CloudNativeCon Europe 2023 event in Amsterdam. During the former event, CSPs and IP/optical transport network vendors showcased new approaches and innovations in network slicing, disaggregation and automation. While there were promising developments, we observed that the transport network's ecosystem is still isolated from the disruption that cloud-native technologies are driving in 5G mobile networks. Transport networks are still viewed as a collection of specialised hardware appliances, protocols and domains. This contrasts sharply with the focus on cloud-native, software-based networking that was emphasised at KubeCon. KubeCon was packed with movers and shakers of the cloud-native industry, envisioning a new future of networking powered by cloud-native technologies.
Despite the current disconnect between transport networks and cloud-native networking and automation, several developments from vendors and operators signalled a change in the transport network paradigm towards more cloud-based thinking at the MPLS SD & AI Net World 2023 event. For example, Ciena presented its WaveRouter, a coherent metro network routing solution that is based on disaggregated distributed chassis (DDC) architecture. WaveRouter embodies several key fundamentals of programmable network platforms, including control and user plane separation (CUPS) based disaggregation, control plane cloudification and IP/optical convergence. Ciena has joined other disruptive vendors like Arrcus and DriveNets which provide disaggregated routing solutions and a platform for deploying further cloud-native software functions (for example L4-7 security and optimisation). The difference is that Ciena bases WaveRouter's design on proprietary Ciena hardware, not white boxes. This reduces the openness of the platform but comes with the benefits of eliminating lifecycle management problems and costs of white box-based solutions which has been a major adoption hurdle for disaggregated networks.
Another example is from the Nokia IP networks division which has been developing a cloud-native automation solution that is based on configuration as data (CaD) principles and the Kubernetes Resource Model (KRM). Nokia started building this solution well in advance of Nephio's announcement. Nokia also has a deep involvement in Nephio's SIG automation group. Analysys Mason's research shows that many CSPs view Nephio as a common automation framework across all network domains, including transport. Kubernetes-based, cloud-native automation (Nephio and/or alternatives) could be the solution CSPs are looking for to collapse their existing automation siloes since Kubernetes is becoming the de facto cloud technology in 5G networks and it is declarative/intent-based by design. Nokia's head start in cloud-native automation puts the vendor in an advantageous position to deliver a horizontal automation solution for a programmable network platform ahead of its competitors.
Finally, several vendors (Cisco, Ciena, Huawei and Juniper) shared their developments and traction in segment routing IPv6 (SRv6) to support network slicing and advanced SLA-based connectivity services with fine-grained traffic engineering and programmable service chaining. Cisco's positioning of SRv6 with microSID (uSID) for unified network programmability across all domains (core, metro, access, data centre and public cloud) and services with a single, common language aligns well with Analysys Mason's programmable network platform vision. Bell Canada shares our cloud-native vision and is rethinking its transport networks for multi-cloud networking using Cilium with SRv6. Cilium is an open-source CNCF networking project that uses eBPF technology to extend CSP networks to public cloud partners in a cloud-native way.
Overall, we expect that the growing trend towards API-based networking and multi-cloud NaaS will require a fundamental rethinking of transport networks, with the integration of cloud-native networking and automation technologies playing a crucial role in their development. However, despite the promising developments we saw at the MPLS SD & AI Net World 2023 event, there is still much work to be done to change the ecosystem mindset and move it towards programmable network platforms.