5G to deliver results in Asia–Pacific needs all stakeholders to collaborate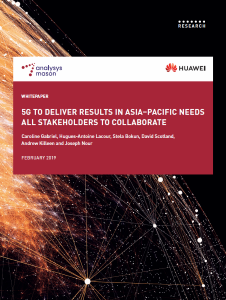 Digitalisation is transforming economies, enterprises and societies in the Asia–Pacific region. Enterprises in the region have been leading the adoption (and sometimes the development) of next-generation technologies (such as artificial intelligence, IoT, big data, cloud), enabling new business opportunities, increased efficiency and solving unique regional challenges.
The international vision for the development of 5G is that it will lie at the heart of the future digital economy and society. The deployment of ultra-fast, highly reliable, scalable and very low-latency networks will facilitate and accelerate the digital transformation of enterprises and support the broader digitalisation of economies and society by enhancing existing services.
More about this report
5G generates interest from operators, enterprises and consumers in Asia–Pacific. Operators are keen to use 5G to enable adjacent or new revenue opportunities, while enterprises from a variety of sectors (such as industry, automotive, financial services, public sector) see 5G-enabled solutions as an opportunity to accelerate their digital transformation efforts. Consumers are relatively unaware of 5G, but some individuals are aware of 5G for some of the early use cases (such as enhanced mobile broadband, fixed–wireless access, connected cars, augmented/virtual reality). Solving unique challenges would result in realistic demand generation for 5G and the supply side development will largely depend on the acceleration and depth the telecoms operators aim to cover, scale up and sustain.
Like any transformation process, less than 2 years before the first commercial deployments of 5G services, a range of business barriers have yet to be removed by telecoms operators to drive 5G adoption in the region.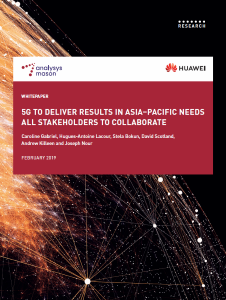 Download
This white paper provides fresh insights into some of the business and regulatory barriers to 5G in Asia–Pacific and offers key remedies for operators and governments.
Download your free copy