Converged fixed–mobile bundles in emerging markets: opportunities for growth
"Most emerging market operators must view fixed–mobile bundles as an opportunity rather than a threat."

Operators in emerging markets may be concerned about the risks of revenue cannibalisation from launching fixed–mobile bundles. However, converged bundles are popular in some emerging markets and can help operators to increase their share of revenue.
This report answers the following questions.
How is the context of the launch of fixed–mobile bundles different in emerging markets compared to that in developed markets?
What are some of the best approaches for converged operators that are considering how to design their fixed–mobile bundles?
What impact have fixed–mobile bundles had on the operational and financial KPIs of operators in emerging markets?
How will the role of standalone fixed and mobile operators be affected by the launch and availability of fixed–mobile bundles in emerging markets?
---
Case studies in this report include:
China Mobile
China Telecom
China Unicom
AIS (Thailand)
True (Thailand)
Veon (Confederation of Independent States (CIS))
---
Potential impact of fixed–mobile bundles in emerging markets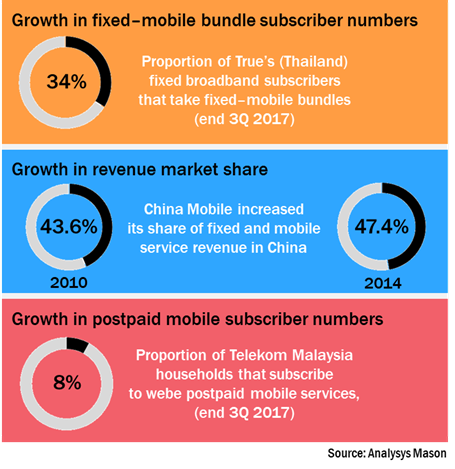 ---
Sample pages
---
Click on the sample pages or download the PDF (1MB).
USD 4999
Contact us
Denotes mandatory fields
Log in
Log in to check if this content is included in your content subscription.