How telecoms operators can launch SD-WAN
Telecoms operators are undecided about whether (and how) to launch their own SD-WAN solutions. If they do not, they risk conceding connectivity market share to new competitors and disruptors such as SD-WAN vendors, other service providers and other operators. Operators can become market leaders in SD-WAN by first launching simple solutions and then adding more-complex capabilities later to generate new revenue.
This report helps telecoms operators to understand why they should launch SD-WAN and discusses the options, including our recommendations about the different strategies that operators can adopt. The report also provides recommendations for telecoms operators that are considering launching SD-WAN, or have launched it already but want to develop their offerings. This report will also be of interest to other companies, such as technology vendors, that are involved in the SD-WAN market.
In this report, we answer the following questions.
Why should telecoms operators launch SD-WAN? What are the risks to MPLS revenue?
How many SD-WAN solutions should an operator offer at launch?
Which features should be offered, alongside the basic SD-WAN functionality?
Which organisations should be targeted as customers?
How should operators sell to these customers?
---
Operators should first launch simple solutions; more-complex features can be added later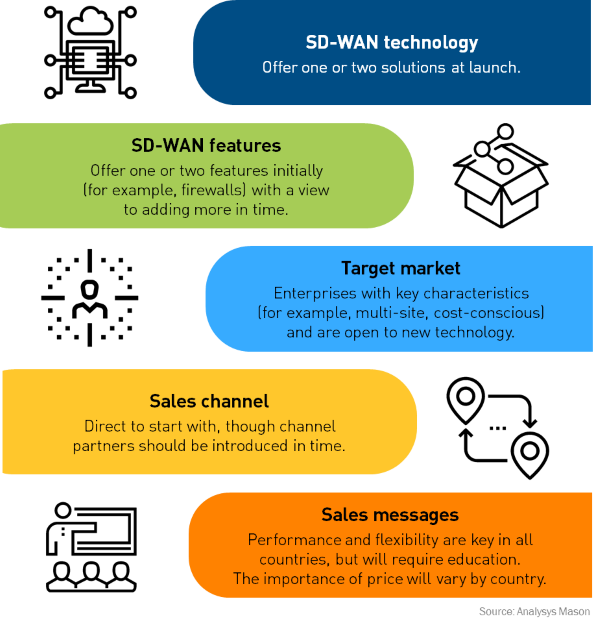 ---
Sample pages
---
Click on the sample pages or download the PDF (801KB).
USD4999
Contact us
Denotes mandatory fields
Log in
Log in to check if this content is included in your content subscription.