Telefónica's UNICA architecture strategy for network virtualisation
Download our free white paper

This Analysys Mason white paper explains Telefónica's network virtualisation or 'Telco Cloud' programme, including the foundational architecture that Telefónica is deploying to support future networks based on network function virtualisation/software-defined networking (NFV/SDN) technologies.
The paper summarises the progress that the company is making in implementing NFV/SDN, from its starting point as an innovation project to the extensive programme that is today, with live deployments.


More about the report
Telefόnica was one of the first operators to recognise the potential of changing network architecture to incorporate cloud technologies, general-purpose hardware and a programmable network control plane.
The company understood that this combination of technologies could radically transform both the cost basis and, more strategically, the capabilities and revenue-generating potential of the network.
Telefόnica envisages operating a network that is fully virtualised and programmable, and which enables the company to cost-efficiently and flexibly align capacity with demand, simplify network complexity and reduce time to market for new service delivery.
As a result of its early investigations into network virtualisation, Telefόnica became a founding member of the ETSI Industry Specification Group (ISG) on NFV in January 2013 and is also pursuing SDN as a critical enabler for NFV.
As well as helping to define network virtualisation on an industry basis through ETSI and other initiatives, the company is also applying NFV internally.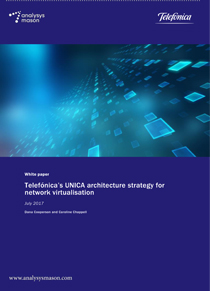 Download free report
This report examines one of the industry's most ambitious and forward-looking visions for a future network based on NFV/SDN technologies.
Download your free copy