Internet Monthly July 2023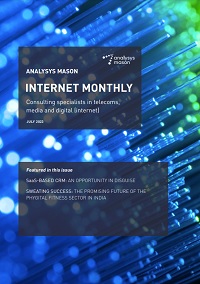 The team at Analysys Mason has advised on more than 150 transactions in the internet and digital space in India in the last the few years, with ~55% of our commercial/business diligence work leading to successful investments, most of which have multiplied in value.
This newsletter aims to share some of the non-confidential insights from our work with the broader group. In this edition of our newsletter, we cover two areas, namely, 1) SaaS-based CRM: An opportunity in disguise, and 2) Sweating Success: The Promising Future of the PHYGITAL Fitness Sector in India
We hope that you enjoy reading this month's edition of our newsletter and look forward to future editions.
To download the full newsletter, click here.