Internet and Technology Monthly September 2023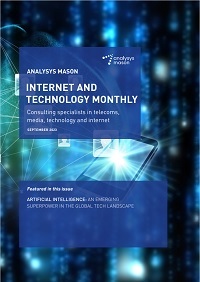 In this edition of our newsletter, we assess the fast-emerging sector of artificial intelligence (AI) and how this is creating a 'once-in-lifetime' opportunity for investors from across the globe. While the deal flow has been slow, at Analysys Mason we have been fortunate enough to have supported some of the recent marquee transactions in this sector in India, the Middle East and elsewhere. Additionally, our Global Emerging Technologies Hub has also supported multiple governments and corporations worldwide in their journey to adopt emerging technologies (including AI). In this edition, we aim to share some of the non-confidential insights from our work with this broader group.
We hope that you enjoy reading this month's edition of our newsletter and look forward to future editions.
To download the full newsletter, click here.