5G fixed–wireless access: the market opportunity for operators and vendors
This report assesses the size of the 5G fixed–wireless access (FWA) market opportunity in 2023: in other words, the limits of what can be addressed, rather than pure forecasts of what proportion of the broadband market that FWA will actually take. It describes the various criteria that create or limit the opportunity for 5G FWA, and assesses their importance at an individual country level. It gives an indication of the addressable market for 5G FWA, which will help operators and vendors to focus their efforts.
This report answers the following questions.
How many premises are addressable for 5G FWA?
What are the commercial models for 5G FWA technologies – for example, should it be complementary or substitutive – and which model will yield the best result?
What will be the size of the addressable market for mid-band or millimetre wave (mmWave) variants?
---
Total addressable market for 5G FWA, worldwide, 2023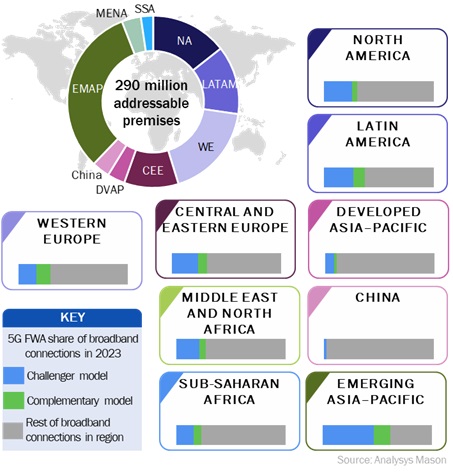 ---
Sample pages
---
Click on the sample pages or download the PDF (782KB).
USD 4999
Contact us
Denotes mandatory fields
Log in
Log in to check if this content is included in your content subscription.