5G IoT application revenue assessment
The problem
Our client, a global operator, was exploring the opportunity for IoT applications that use 5G, and wanted to understand the addressable IoT 5G revenue for operators, as well as gain a better understanding of the largest use cases.
The solution
We initially produced a long list of IoT use cases and categorised them into three groups: applications that can only work with 5G; applications that would work on 4G but will benefit from 5G; and applications that have no requirements for 5G and will migrate in due course. These groupings are based on their technical requirements (latency, density, availability, throughput, mobility)
We selected and explored five vertical markets in detail: automotive; healthcare; smart cities; drones; and manufacturing. For each vertical, we have identified the drivers for embedding 5G, estimated the split of value by value chain element, and captured the latest market and technology developments (e.g., trials).
Figure: 5G IoT forecast, worldwide, by IoT application category, 2019/2020–2026/2027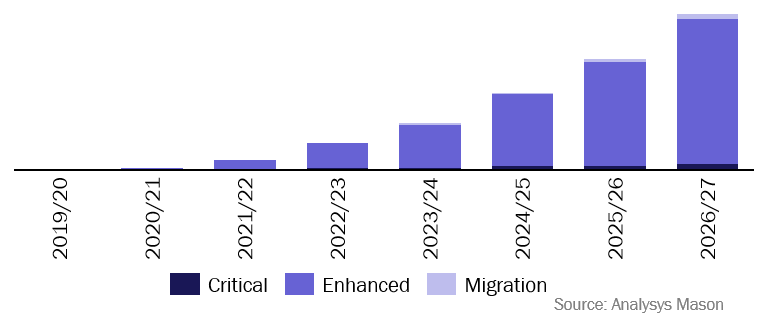 The result
We used the results of these analyses to estimate the speed of adoption and migration of IoT use cases to 5G and to produce a forecast of 5G IoT connections, associated connectivity revenue and data traffic by use case, vertical sector and region.
We also provided recommendations to our client on how to best position itself to profit from the 5G potential in the future.